Better Tether
A Better Way To Feed and Tether Your Dog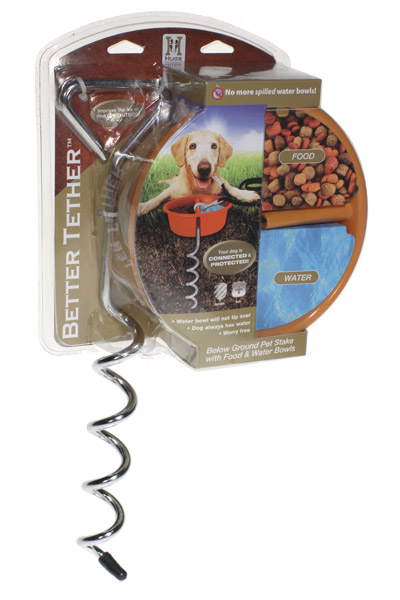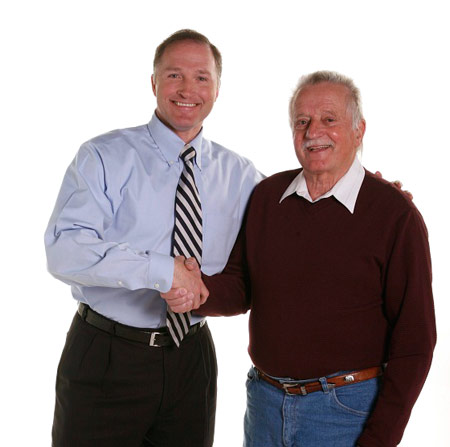 The Problem:
Many dog owners must tether their canine companions outdoors at times. Usually, it is just a matter of time before the chain or cable knocks over the dog's food and water bowls as the pet runs around; the food gets dirty and the water soaks into the soil or evaporates, leaving the dog thirsty. In addition, ordinary tethering devices that protrude from the ground pose a tripping hazard and an obstacle for a lawn mower.
Davison's Better Way:
We developed the Better Tether for our client, who wanted to create a better and more humane method of tethering a dog outdoors. Unlike traditional devices, the unit is placed in-ground, eliminating an obstacle to pets, humans and machines. The divided food and water bowl can never be tipped over and the unit never has to be moved for the lawnmower! A leash can be attached directly to the strong steel post within the unit, and the vivid orange color makes the bowl highly visible. Fido will never go thirsty again!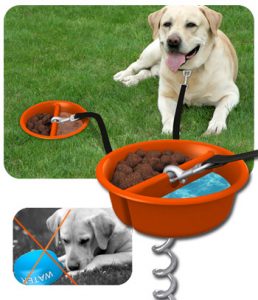 Featured in the following stores: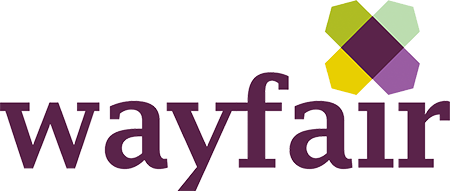 Petco
Baxter Boo
Peppy Pet
Wayfair
Buy.com
Home Depot
Camping World
Newegg
Digital Gift Store
My Pet Supply Store
Friendly Pet Supply
Home Garden Pets
Spoiled Pets
Pawz Pet Care Center
Pet Fence USA
Into the Wilderness
K9 Electric Dog Fence
Pet Supply Showroom
Nulime
Angel Scraps
Whole Life Pampering Solutions
Mo Tails
Allegro Shops
PHT Pet Supply
Lloyd's Choice Pet Supplies
TSC Pets
Buxnie
Debnroo
Active Dog Toys
Thrifty Pet Supply
Overstock.com
eCrater
BJ's
Plentiful Pet
Hillrise Farm
Hugs Pet Products
PetShopUSA.com
Other Davison designed Hugs Pet products:
The client has made a profit on this product. A typical project does not get a royalty agreement, sell in stores or generate a profit.