Tee Bone
A Better Way To Calm Your Pet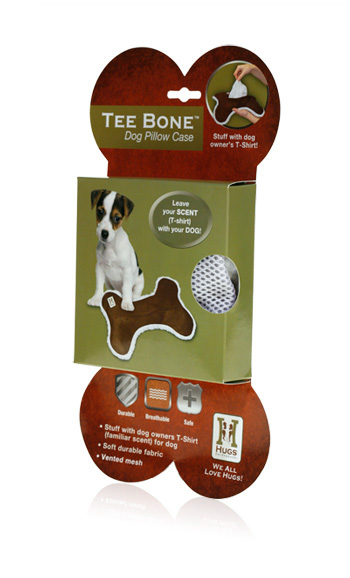 The Problem:
Many pets get anxious and afraid, not to mention lonely, when their human companions are away. The anxiety and fear caused by a prolonged separation can even result in severe behavioral issues; and there is not much the owner can do to reassure and comfort their pet while they are gone. Until now…
Davison's Better Way:
We created the Tee Bone scent-releasing pillow for a client who wanted to offer a simple and practical way to comfort their anxious pet when it is home alone. The pet owner simply inserts a worn Tee-shirt into the loop pocket of the soft mesh, bone-shaped pillow. When reclining against the pillow, the pet smells the distinctive scent of their human companion, which provides them with comfort and reassurance until their owner returns home.
Featured in the following stores:

BaxterBoo
Pawz Pet Care Center
My Pet Supply World
Bargain Buy Pet Supply
Pet Fence USA
Home Depot
Debnroo
Peppy Pet
Hom Store
Digital Gift Store
KT Pet Supply
Smith-Marine
Into the Wilderness
Spoiled Pups
Home Garden Pets
Friendly Pet Supply
Traveling Pet Supplies
Pet Supply Showroom
Nulime
Allegro Shops
Blueify Store
Active Dog Toys
Lloyd's Choice Pet Supplies
Plentiful Pet
Hillrise Farm
Hugs Pet Products
ShopUSA.com
This is a corporate invention and the same 9-step Davison Inventing Method is used to develop each idea, for idea people who work with us on their ideas or corporations that ask us to invent for them.