Pet Palace
A Better Way to Break in a Pet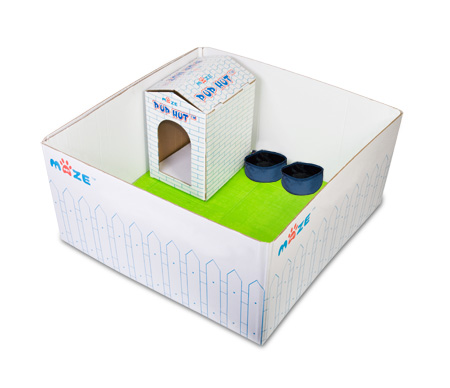 The Problem:
A new puppy or kitten can get scared, and make a big mess, if left in a large, open space; but a flimsy, cardboard box is not a good option.
Davison's Better Way:
We created the Pet Palace starter kit for a client who needed a neater and easier way to break in a new puppy or kitten. The roomy, easy-to-assemble box is made of extra strong, water repellent cardboard and includes a secure pet yard and hut. It prevents messes while helping your pet to feel safe and secure. The grass-colored floor and fence design also give it an attractive look. The kit even includes food and water bowls and puppy's first chew toy!
Featured in the following stores:

Amazon.com
Peppy Pet
National Pet Pharmacy
The Pet Center
Pet Food Direct
Hugs Pet Products
CSN Stores
SmartHome
Nationwide Pet Supplies
Debnroo
Camping Gear Outlet
PetShopUSA.com
Nulime
Other Davison designed Hugs Pet products:
This client has not realized a profit on this product. A typical project does not get a royalty agreement, sell in stores or generate a profit.