Chew Core
A Better Way To For Dogs to Play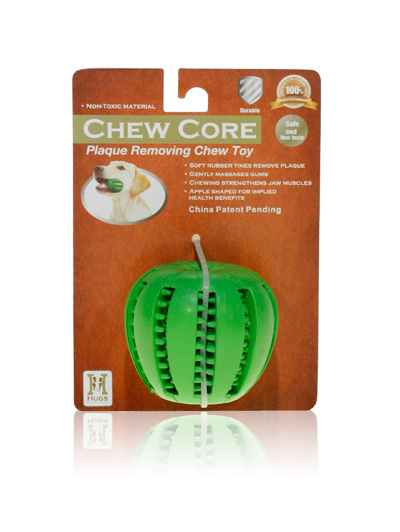 The Problem:
Dogs have an instinctive desire to chew, which strengthens their jaw muscles and helps clean their teeth. But to satisfy that desire, they often end up chewing on something they shouldn't, resulting in ruined shoes or other costly items or the chance of ingesting something that is unhealthy.
Davison's Better Way:
We created the Chew Core plaque removing toy to provide a fun and safe alternative. The durable molded rubber toy satisfies a dog's desire to chew, thereby helping to improve canine dental health, while also providing hours of backyard fun. Dogs love playing with and chewing on the brightly colored, apple-shaped toy as the rubber tines gently massage their gums, remove plaque from their teeth and strengthen their jaw muscles.
Featured in the following stores:

Lloyd's Choice Pet Supplies
Plentiful Pet
Amazon.com
Pet Food Direct
Buddy Pet Products
Cats n Dogs
Hugs Pet Products
Pets Head to Tail
National Pet Pharmacy
In the Company of Dogs
Pawmark
Natural Pet Warehouse
The Playful Dog
Thrifty Pet Supply
Hillrise Farm
Muttropolis
CSN Stores
Nationwide Pet Supplies
Sales Innovation
Hayneedle
Blueify Store
Pup Life
debnroo
My Healthy Puppy
Peppy Pet
Pet Fella
Other Davison designed Hugs Pet products:
This is a corporate invention and the same 9-step Davison Inventing Method is used to develop each idea, for idea people who work with us on their ideas or corporations that ask us to invent for them.