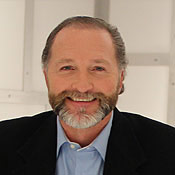 It took personal failure to make George Davison realize how important it is to encourage success.
As a boy, dreaming in his Oakmont tree house, George knew that he wanted to do something unique. He achieved that with the creation of his innovative product development company, Davison, and Inventionland – the world's most creative workplace. "As long as I can remember," Davison says, "I've always done things differently than most people."
Born in 1963, Davison is a fourth-generation Pittsburgh business leader. In 1854, his family formed Davison Sand and Gravel, which grew over 125 years into Western Pennsylvania's largest company of its type. With dredge, truck, and plant operations, Davison built roads and foundations under many steel mills.
On his mother's side, McCreery Brothers designed, engineered, and fabricated heating and cooling systems for some of the region's most challenging structures, including Frank Lloyd Wright's Fallingwater.
In his early years, he attended Shadyside Academy and The Kiski School in Southwestern Pennsylvania. During that time, he discovered his love for creating new products and developed his entrepreneurial skills. While most children his age were buying treats, he was the one selling them to his classmates.
Despite two letters of nomination to the U.S. Naval Academy, from Congressman Lyle Williams and Congressman Don Bailey, George Davison opted to stay local and attend the esteemed Allegheny College. He graduated in 1986 with a bachelor's degree in economics and a minor in computer science. He also took a course in new product development at the University of Pennsylvania's Wharton School of Business.
Carrying on his family's entrepreneurial spirit, Davison spent two years after graduation from college developing a product to sanitize toothbrushes. Like most inventors, he was discouraged when a large corporation beat him to the market. That's when he figured there must be a better way to design, develop and bring new products to market.
Davison realized that inventors, like corporations, need a system; he determined that "reinventing inventing" offered a perfect blend of economics and creation. His solution: to come up with a new method to get ideas designed, developed, and prepared for licensing in one place, and at a price point that made it affordable for all consumers. Now, Davison's "Idea to Product Method" is the cornerstone of Davison Design and Development, Inc.
To pursue this goal, in 1989 he started Davison in his grandfather's home, one of the oldest houses in the Allegheny River community of Oakmont. By 1999, he had invented the world's first affordable way to invent. Making prototype molds, working with customers, and developing a process that helped the company grow resulted in multiple area operations. In 2001, Davison united under one roof at 595 Alpha Drive in RIDC Park, O'Hara Township. The 36,000-square-foot facility remains the headquarters of Davison's national sales and licensing divisions.
In 2006, the design division moved next door into Inventionland, a fantastical design facility created by Davison to get his designers out of cubicles and into a stimulating, inspirational environment. Occupying more than 60,000 square feet, Inventionland is unlike any other workspace. New products come to life in 16 themed sets – toy designers' ideas set sail on the deck of the pirate ship Discovery, electronics designers build electric gadgetry inside a giant robot, and designers of automotive products let their minds race in the Motor Speedway.
Davison also has traded in his ordinary office in the neighboring building for an office in the Treehouse, from which he can look out at the waterfalls of the cavern and the turrets of Inventalot Castle. He and his team often brainstorm on the deck, thinking up the products of the future. The secret entrance to Inventionland is hidden in Edison's Lab, a room that highlights the evolution of the company and its product successes. The room also is a testament to Davison's inspirational heroes, Thomas Edison, Walt Disney and Henry Ford.
In the fall of 2007, Davison received extraordinary recognition when Inventionland was featured in Ripley's Believe It or Not!, The Remarkable… Revealed.
In 2008, George Davison was labeled, "Creative Genius" by Entrepreneur Magazine. Inventionland was featured among "40 Amazing-Looking Design Offices" in the January/February 2008 issue of I.D. Magazine, which stated, "It may look like a theme park, but Davison International's workspace is teeming with productivity."
In 2009, Davison celebrated his 20th year in business. The anniversary marked an important milestone in the growing company's history and saw the most new product and package designs hit retail shelves in one year. He also began plans to expand his vision to the entertainment industry.
Author Judy Wearing devoted an entire chapter to George Davison in her 2009 book Edison's Concrete Piano. The revealing book details the successes and struggles of Davison and 15 other inventors, including Thomas Edison, Leonardo da Vinci, Henry Ford, Alexander Graham Bell, and Jerome Lemelson.
In April of 2010, Davison accepted a position to the board of I 2 E (Idea to Execution), which oversees the annual Innovation Competition sponsored by Suffok University in Boston.
Today, with many patents in his name, products that have sold in over 1,000 stores and online retailers, and a proven method of turning ideas into products, Davison is becoming known as "the Henry Ford of inventing" because he has made it affordable for anyone to pursue their ideas.
While Davison's creative pursuits are very important to him, so are his family and the community in which he lives. His wife and three children encourage his inventiveness, as does he with them. He is involved in his church's youth ministry, local high school activities, and political fundraising events. He dabbles in politics like he dabbles in golf, which is not very often. He is also active in working with local schools to place an emphasis on the importance of science and inventing.
Davison says, "Educating kids about inventing is very important to me, as is encouraging my employees to continue to learn and fully utilize their creative abilities."
For more on George Davison you can visit his official website.