Our client, Inventor of the Meatball Baker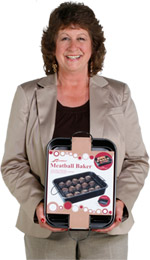 We've all been there: Meatballs that don't brown evenly… meatballs that get misshapen and flat if you fry them and sit in their own grease if you bake them.
Jean Rindfuss believed making a decent meatball could be easier, more convenient and healthier… and, she was right.
Jean brought her idea to Davison and the innovative Meatball Baker was developed.
The Meatball Baker features a unique rounded rack system that holds meatballs, shish-kabobs and a variety of other foods so they keep their shape, bake evenly and steer clear of grease.
Of her experience with Davison, Jean says, "It has been great – you guys are very knowledgeable. I was new to all this and learned a lot."
Her product was an immediate hit when it debuted on QVC in 2009 – it sold out in under a half hour. Today, Jean's Meatball Baker is on shelves and available online from dozens of stores.
Images From The Dare To Invent Video
Featured in the following stores
Avon
Montgomery Ward
DTY Direct.com
Hawthorne Store
The Gourmet Kitchen
Better Homes & Garden
Bed Bath & Beyond
QVC
Cooking.com
Komando.com
Amazon.com
SkyMall
Harriet Carter
Central Chef
Fantes.com
Cooking Enthusiast
CHEFS
Chef's Resource
Mary Maxim
A.C. Moore
Chef Giant
Denver Fabrics
Fashion Fabrics Club
Someone's in the Kitchen
Orange Onions
Kitchens on the Square
Kitchen Store on 10th
Kitchen Universe
For Keeps Sake
Collections, Etc.
Want it All
Scrap-Masters
Baker's Emporium
The Value Emporium
Grand Pointe
Country Store Catalog
As Seen on TV Junkies
For My Castle
HomeGoodsNetwork
The Lighter Side
Baker's Corner Store
Ozab AU
StorePulls.com
iHome
Arts Crafts USA
The Shopping Channel
Dealpal
US Appliance
Kitchen Glamor
ChefTools.com
Gourmet World
Miles Kimball
Bedding.com
e-sticker.com
Seventh Avenue
BIG Kitchen
Gifts & Gadgets
Linen's & Things
Nibblins
The Greatest Gift
Robert's Arts & Crafts
Irawoods.com
City Chef
Ben Franklin Crafts
Golda's Kitchen
Kitchen Kapers
Fresh Finds
KitchenEmporium
Super Mart
A typical project does not get a royalty agreement, sell in stores or generate a profit.