Watch as Davison's Better Way to Invent turns Sharon's Cool Cot House idea into a store-ready reality!
Washington state native Sharon was your everyday housewife and mother… but, she had a bit of a problem. She wanted a comfortable, convenient place for her dogs and cats to sleep on or in while on camping trips or at home in her own backyard. While shopping in one of America's largest retailers, Sharon noticed a small pop-up tent and thought that a real tent that size offered the perfect solution for her furry friends.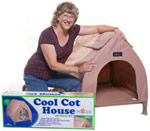 Sharon often went camping & hiking and wanted a cool, comfortable, and convenient shelter for her furry friends. She could not find a product that would solve this problem, so she decided to invent it herself. The finished product, the Cool Cot House, features a water-resistant tent with a vented roof, raised bed and mesh cot designed to keep dogs and cats cool and dry. In the Summer of 2010, Sharon shared her inventing story on Lifetime TV's "The Balancing Act" alongside George Davison and the president of Hugs Pet Products – the company that licensed the Cool Cot House.