Watch as Davison's Better Way to Invent turns Jean's Meatball Baker idea into a store-ready reality!
We've all been there: meatballs that don't brown evenly… meatballs that get misshapen and flat if you fry them and sit in their own unhealthy grease if you bake them. Jean believed making a delicious & decent meatball could be easier, more convenient and, above all, healthier! Watch as the Davison Inventing Method is used to invent Jean's "Meatball Baker!"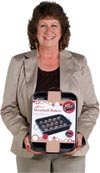 Jean Rindfuss, a homemaker from Minnesota, wanted an easy and healthy way to cook meatballs. She looked for a product to meet her family's need, but could not find anything on store shelves, so she decided to fill the void in the marketplace herself.
"It's been great – you guys are very knowledgeable," said Jean. "I was new to all this and I learned a lot … coming to Davison has been the experience of a lifetime."