Watch as Davison's Better Way to Invent turns Diane's Hydro Bone idea into a store-ready reality!
Animal lover, Diane, enjoyed taking her precious Japanese Chin pup, Alexander James, on long car rides; but, she hated hearing him panting in the back seat. She wanted to provide her pet with on-the-spot, thirst-quenching refreshment that wouldn't create the same mess the water bowl did.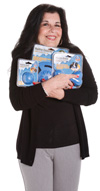 Diane DiRaimo loved taking her Japanese Chin puppy for rides in the car; but, she had a hard time keeping him hydrated and happy on long trips. She knew a water bowl was out of the question, but thought there must be a better way to provide her pet with some on-the-spot refreshment.
The caring pet lover brought her idea for a hydrating new product to Davison and, now, Diane's "Hydro Bone" has sold in Petco, Sam's Club, Bed Bath & Beyond, Amazon and at several other major retailers.