Watch as Davison's Better Way to Invent turns Lennell's TheraPED idea into a store-ready reality!
Missouri native Lennell Parks was an everyday inventor, who had a problem with "hot feet" caused by multiple sclerosis. She contacted Davison with an idea to soothe sore feet and toes. Her innovative product was designed by Davison Creationeers and has since been featured on various blogs and even got a mention by the American Podiatric Medical Association (APMA). Also, Z-LIFE Magazine, the official publication of Zumba Fitness, featured the TheraPED as an answer for sore, "danced-out" feet that have had a little too much merengue march. It was even given out in gift bags at the 45th Annual Country Music Association (CMA) Awards!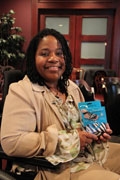 Unfortunately, nothing worked at getting her feet the comfort that she desired. Lennell knew that there must be a better way! So, she took matters into her own hands (and feet, if you will).
The quick thinking Missouri native brought her idea to Davison to find a solution. Davison came up with a way to pamper, stretch and refresh her feet with the TheraPED.
After coming to us for help in designing her product, it was licensed by a company looking for innovative healthcare products.