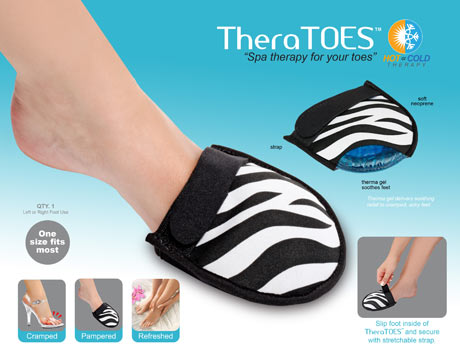 Taking a walk on the wild side has paid off big-time for a couple Davison-designed spa-therapy products!  Less than a month ago, we informed you that the TheraPED, a product we designed in collaboration with our client, Lennell, that has been licensed by Health Enterprises, and the TheraTOES, which we also designed for Health Enterprises, had received a "face-lift" and were showing their true colors… which just so happen to be animal prints!
A couple days after that, we told you how the products, which provide hot and cold soothing relief for sore feet and toes, were also reviewed on several blogs, including  Dashing for Deals, Mommy Katie and Whom You Know.  We even found two other rave reviews at The Jolly Blogger and Autumn Blues Reviews!
Then, Health Enterprises President Brendan Leonard informed us that the TheraTOES and TheraPED was featured on look0nline.com's Daily Fashion Report for New York's Fashion Week on September 15th!
According to the post, TheraTOES and TheraPED "relieve tired achy feet" after "long days in high heels!"
Once again, the TheraPED and TheraToes have received some major exposure!  In the September 2011 edition of TOMI Magazine, a music, film, television and sports business publication that highlights small companies, the TheraPED and TheraTOES were featured in a two-page spread.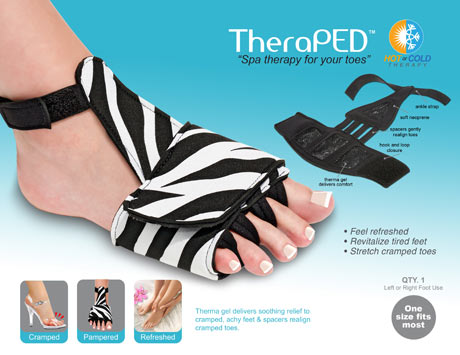 In the story, called "Happy Feet" in TOMI's Business Health section, writer Tonisha L. Johnson highlights the health benefits of the TheraPED and TheraTOES for business-men and women who may be hard on their feet.
"Investing in your health invests in you and your business," she says.
Johnson also talks with Health Enterprises Assistant Marketing Manager Megan Schmidt, who cites painful American Podiatric Medical Association evidence that consumers, particularly women, are in need of the products' soothing relief.
"Consider that 87% of women report foot pain or problems as a result of painful footwear and 39% of women report wearing high heels every day despite the fact that 75% report shoe related foot pain and other symptoms," says Schmidt.
Schmidt also lets even more awesome news surrounding the innovative products slip out.
"We have a number of exciting developments for the second half of 2011 and into 2012.  This includes new items to the THERA family as well as the TheraPED and TheraTOES, not to mention a very exciting celebrity development, which will be announced in the next 30 days," says Schmidt.
Although we don't have details on the celebrity involvement, we wont' make you wait 30 days to find out about the latest addition to the THERA family!
We've recently been informed that Health Enterprises is to release the TheraCALM!  While we don't have many details on the product yet, we do know it already has been presented to Bed Bath & Beyond and may be appearing on their shelves soon!  We can't wait to see that familiar "D" pop up on a new product!
Congratulations to our client, to Health Enterprises and to everyone here who has helped make these products so successful!  Awesome work!
Read the entire TOMI Magazine article by clicking here!
Tune in for part 2 on Friday to find out what the TheraPED has in common with country crooners Kenny Chesney and Carrie Underwood!
The client has not made a net profit on this product. A typical project does not get a royalty agreement, sell in stores or generate a profit.