This fall brings exciting opportunities for many Davison-designed Hugs Pet Products items!  The Hydro Bone, Silicone Dog Treat Pan, Auto Dish and Pugz Shoes for Dogs were featured on last Monday's Inventionland segment on the CBS "Early Show."
Now, Hugs Pet Products' entire current line, along with some awesome new items, are hitting the trade show circuit, which means big-time exposure across the nation!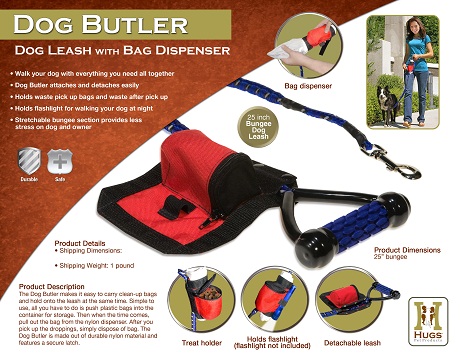 One new product set to roll-out this fall is the Deluxe Dog Butler, an enhanced version of the previous Davison-designed Dog Butler.
Conveniently including everything needed for a relaxing walk in the park with a canine companion, the Deluxe Dog Butler includes an expandable bungee leash, designed to lessen the stress and strain on you, a storage compartment for treats to reward your pup and a flashlight holder for late-night walks.  It even includes 10 adorably-designed (and always necessary!) Potty Paws mitts to pick up after your four-legged friends!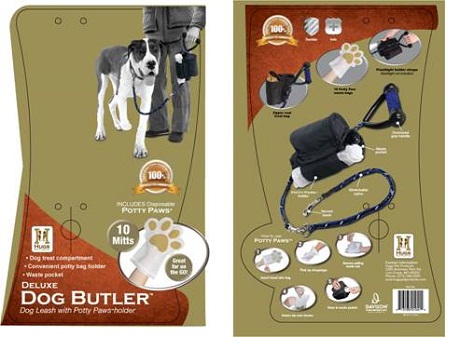 According to Davison's Vice-President of Licensing, the fall trade show circuit provides some awesome opportunities to present new and current products to some big-name national retailers.
"We are showing [the Deluxe Dog Butler], along with the entire line of Hugs Pet Products to Petco Wednesday in San Diego, Bed Bath & Beyond the following Wednesday in New York and at the Super Zoo trade show in Las Vegas, the week of September 13th," said the VP.
It sounds like we may be seeing the Davison "D" on some more store shelves soon!  To follow the Licensing Team as they present innovative products around the nation, view the entire Trade Show schedule online at https://www.davison.com/tradeshows/.
Kudos to everyone who has worked on bringing the Deluxe Dog Butler (and all of our "D-lightful" items!) to trade shows, the marketplace…and beyond! 🙂
This corporate product was invented and licensed by Davison for its own benefit.