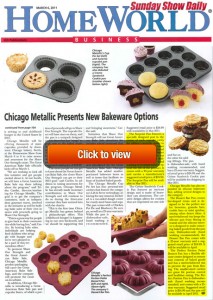 The latest issue of HomeWorld Business magazine, the leading business-to-business publication for the housewares industry, features many of the hottest innovations unveiled at the 2011 International Home + Housewares Show — including several products designed by Davison!
In the Sunday Show Daily edition, a full-page article  on new bakeware options includes the Surprise Filled Dessert Pan, created by our corporate team, and two client products — the Silicone Dessert Bar Pan and the Perfect Portion Petite Dessert Pan. The latter is the newest in the Davison-designed silicone bakeware line and is great for creating perfectly sized treats. All three pans have been picked up by Chicago Metallic, as has the entire silicone line. CM is "a great brand that's been around for a long time and that has access to all major retailers and everyone in between," said Davison's VP of Licensing.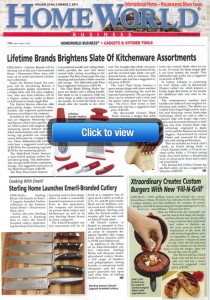 In addition, the Fill-N-Grill stuffed burger maker that we created for Xtraordinary Home Products is featured in the new Gadgets & Kitchen Tools section of the HomeWorld Business issue covering the IHH show.
The handy Fill-N-Grill, which came out of a brainstorming session by our corporate team, makes creating custom burgers filled with mouthwatering ingredients quick, easy and mess free — no wonder the editors included it in the special issue!
Click on the images to view the great articles!