On Friday, May 8, our friends at Hugs Pet Products, who we have designed and licensed products to, had some exciting news to share!
Their products were featured on EVINE Live! But, the excitement didn't stop there. Why? Because Paula Deen was showcasing the Hugs Pet Products Silicone Dog Treat Pan and Dog Treat Mixes during the "Paula Deen's Kitchen" segment!
In the segment, which aired from 5- 6:30 p.m. EST, Deen was touting the Davison-designed Silicone Dog Treat Pan that we licensed to Hugs Pet Products!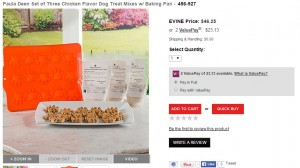 We created the Silicone Dog Treat Pan for a client who wanted to provide a healthy alternative to store bought treats. The flexible baking pan enables health-conscious pet owners the chance to create fresh, homemade treats for Fido!
The baking pan makes 15 paw-shaped dog treats and the silicone center is flexible for easy removal of the baked goods. The pan also has a steel-reinforced rim on the inside, which provides a sturdier frame for carrying from the oven to the countertop!
Paula Deen, being an animal lover herself, wanted to help pet owners bake paw-shaped treats for their canine friends, so she came up with a delicious chicken-flavored recipe.  And, you thought that Paula Deen was only whipping up creative products and recipes for humans!
Let's just say that your furry four-legged friends will be begging for these quality products from Paula Deen!
If you want to see the segment for yourself, all that you have to do is click here and then scroll down and select "Watch Video" under the image of the Silicone Dog Treat Pan and Dog Treat Mixes.
Copyright Davison, 2015
The client has not realized a net profit on this product.