The excitement continues to build for our friends at Hugs Pet Products around their on-going partnership with Paula Deen! Just today, Deen announced on her own website that her General Store soon will be stocked with the dog food that the two have partnered to create!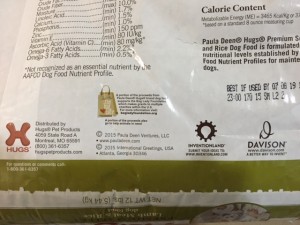 Not only are our tails wagging for our friends at Hugs, but we're also pretty pumped about the fact that you can clearly see our logo on the back of the Paula Deen pet food bags, too!
Though we can't hold a candle to Paula's cooking in the kitchen, at our creative design facility, we designed and developed the packaging for Deen's entire dog food line!
If you're interested in treating your pup to Paula's recipes, she'll start showcasing the dog food in her General Store next week. And, if you can't wait that long, our friends at Hugs are selling it now!
Copyright Davison, 2015