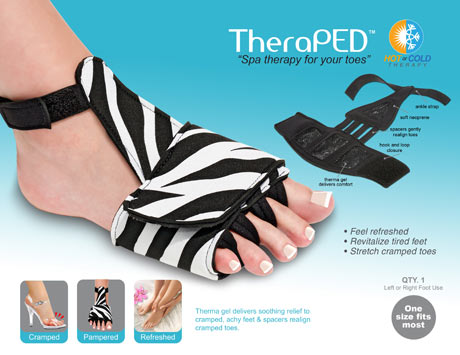 Two new products we created for Health Enterprises that have received great reviews are going into initial production. If all goes according to plan, the TheraPED and TheraTOES could be on the shelves of a major drugstore chain early next year. Other major retailers are also interested.
"There was enough interest that Health Enterprises decided to put in an order for pre-production quantities," said Davison's corporate creative coach. "It's a good sign."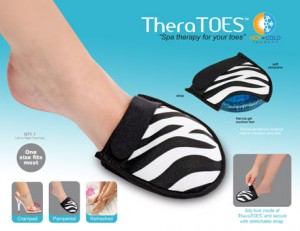 His team is in the process of finalizing the packaging and instructions regarding the heating and cooling properties of the products. The president of Health Enterprises got to review the progress when he visited us this past week for a brainstorming session. So far, he is pleased with the results.
"He liked it very much; he's pretty psyched about it," said the design manager.
TheraPED is designed primarily for women who wear high heels and who get sore and cramped toes as a result. The product, which wraps around the foot like a gladiator boot, stretches and realigns cramped toes while soothing them with heat or cooling gel therapy. TheraTOES is like a mini slipper with a gel insert on the bottom that delivers soothing relief to cramped and achy feet and toes.
The products were born out of a question from the president of HE. While showing the team a product on the market that realigns cramped toes, he asked, "What can we do to make this better?" The answer was simple – add hot and cold therapy as we did for the line of braces we created for the company.
The products are truly unique with the added gel packs and the innovative design, as well as a "nifty zebra print that's gone over really well," said the design manager, who has seen nothing on the market quite like it. "It's a good product because there's not a lot of tooling involved, so it's cheaper to manufacture and there's less of a risk."
The products also will be back in front of other major retailers, according to Davison's VP of Licensing. And the team is working on an entire line of similar spa-type products oriented toward women, which are an innovative spin on what's out there in brace market, he said.
Once again, great work, team!