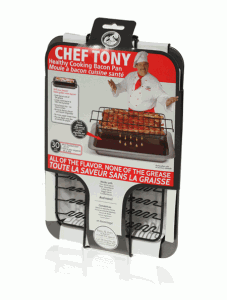 First it was NBC's TODAY and now the Chef Tony Bacon Baker is headed to QVC!
The Chef Tony Bacon Baker will appear on QVC tomorrow between 8 p.m. and 10 p.m. EST.
This innovative product stemmed from our client, Jean's Meatball Baker idea. It provides a Better Way to bake healthier bacon by elevating each individual slice out of its own grease.
Don't forget to tune in or set your DVR to QVC tomorrow night! We won't go "bacon" your heart with this segment!
Copyright Davison, 2015
A typical project does not get a royalty agreement, sell in stores or generate a profit.