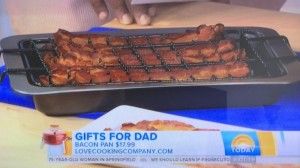 If you haven't heard the great news yet, yesterday, the Chef Tony Bacon Baker that we designed right here at Davison was on NBC's TODAY!
Once again, our Better Way to Invent has turned another idea into a product… a product that now has been seen by millions of viewers!

On NBC's TODAY's Take, a segment on grilling gifts for dads featured the Chef Tony Bacon Baker, which is sold by our friends at the Love Cooking Company!
The Bacon Baker, which we designed, promises crispy bacon every time. The innovative Bacon Baker elevates each slice of bacon to prevent it from sitting in its grease.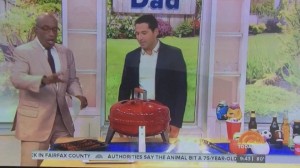 If you watched the segment closely, you also may have noticed that everyone's favorite TV weatherman, Al Roker, even referenced the "better way" the pan works!
"Everything goes better with bacon… you have a better way to make bacon," said Roker.
If you missed seeing the Chef Tony Bacon Baker on NBC yesterday, don't worry, here's the video!
But, if you're looking for a great grilling gift for that special dad in your life, you can pick up one for him and one for yourself by visiting Lovecookingcompany.com, where the Bacon Baker is available for just $17.99!
Copyright Davison, 2015
A typical project does not get a royalty agreement, sell in stores or generate a profit.