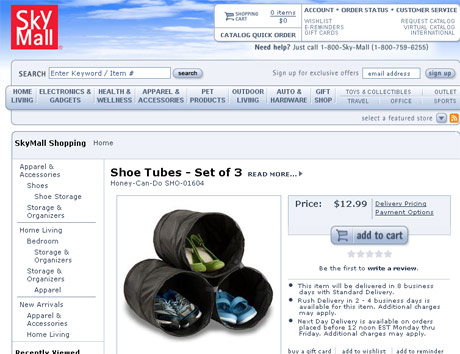 We got the good news at the last Licensing meeting and party that one of the first products we designed for a new corporate client, one of the largest manufacturers of organizational items, was going to market. Less than two months later, the Shoe Tubes is selling in Sky Mall! Speaking on behalf of everyone involved with the project, the design manager offered this comment: "Sahweet!"

The project originated on our corporate design team, which was asked to come up with shoe storage concepts. Three designers brainstormed and came up with 15-20 concepts. Davison's VP of Licensing met with the president of the corporation and a major retail buyer at the International Housewares Show to discuss the concept sketches. The buyer wanted to see 10-11 taken to the next level, so the team built and created models and images.
"The Shoe Tubes is a great example of adding a new twist to an old product that makes it unique and attractive to buyers and consumers," said the VP. "The corporation saw it and they loved it."
The product stores and organizes shoes so they are always easy to find. The soft-sided unit, which is made of washable, waterproof fabric in a variety of colors, has three tubes to neatly hold three pairs of shoes under a bed or in another out-of-the-way space. It is collapsible, so it can be stored and shipped flat, making the product very attractive to retailers.
Congratulations to all who worked on this awesome new product!