Two Davison-designed products, the Hanger Pockets and Hanger Links, were recently licensed by the Jokari Company. Not to mention that in addition to being featured at the 2014 International Home + Housewares Show in Chicago, IL, both products have now landed on the front page of Jokari.com!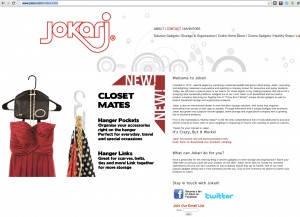 The two products are showcased together on a rotating slider on Jokari's homepage.
These Davison-designed products offer the consumer a better way to organize their closets. In fact, Jokari said that the Hanger Pockets "organize your accessories right on the hanger… Perfect for everyday, travel and special occasions."
Jokari went on to say that the Hanger Links are "great for scarves, belts, ties and more! [They] link together for more storage."
The Jokari homepage was only the first stop for these two products. In fact, both are featured in the company's product catalog!
After seeing our Davison-designed products on Jokari's website and in their catalog, we think that it's safe to say that we're already "hooked" now and can't wait to see these products soar onto store shelves!
Copyright Davison 2014
The client has not made a net profit on this product.  A typical client project is not licensed, sold in stores or profitable.