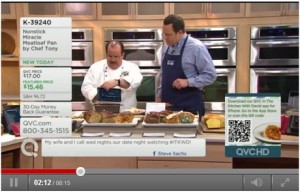 At Davison, we started out 2014 with an incredible bang when our client's Miracle Meatloaf Pan debuted on QVC's "In the Kitchen with David" in January and SOLD OUT in less than 10 minutes!
Now that we're half way through 2014, the Miracle Meatloaf Pan is headed back to "In the Kitchen with David," where Culinary Professional Chef Tony Notaro will showcase the pan and the many wonderful meatloaf creations that can be made with it.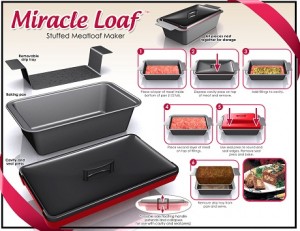 The Miracle Meatloaf Pan takes center stage on QVC tonight at 8 p.m. when Chef Tony will showcase his delicious meatloaf masterpieces. Last time, Chef Tony whipped up turkey cheese broccoli meatloaf, pizza meatloaf, Greek-stuffed chicken meatloaf and manicotti-stuffed meatloaf, just to name a few of his culinary creations.
What will he be cooking up with the Miracle Meatloaf Pan tonight? Our mouths are watering just thinking about all of the options!
Tune in to QVC tonight at 8 p.m. to see the Davison-designed Miracle Meatloaf Pan and Chef Tony team up for stuffed meatloaf success!
Copyright Davison 2014
The inventor of the Miracle Meatloaf Pan has not earned a net profit on this product.  A typical client project is not licensed, sold online or in stores or profitable.  Davison charges fees for its services.