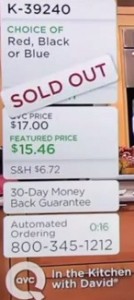 What happens when you take 5,500 available Davison-designed Miracle Loaf stuffed meatloaf pans and showcase them on QVC's "In the Kitchen with David," showing off irresistible options like turkey cheese broccoli meatloaf, pizza meatloaf, Greek-stuffed chicken meatloaf and manicotti-stuffed meatloaf?
The Davison-designed Miracle Loaf sells out in less than 10 minutes!
That's right, our client-inspired Miracle Loaf stuffed meatloaf pan that was licensed by the Love Cooking Company appeared on QVC last Wednesday night and SOLD OUT of 5,500 units in less than 10 minutes!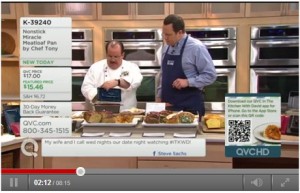 Culinary Professional Chef Tony brought so much life and love to the pan by showcasing several of his own amazing recipes, which came included with each purchase. QVC customers who acted quickly were also able to customize their Miracle Loaf by selecting red, black or blue cavity and seal presses to accompany their gunmetal pan and drip tray.
Further showcasing the miracle-working power of the Davison-designed baking product, Chef Tony highlighted the drip tray in action, draining greases, fats and oils from his delightful Miracle Loaf creations on the air!
Now, we can't say that "In the Kitchen with David" host David Venable did not warn consumers to hurry and take action on the Miracle Loaf. Not even seven minutes into the delicious presentation, he said, "We've already taken orders for well over 3,000 of these!" Venable also let customers know that over 2,000 others currently were "jammed on the phone lines."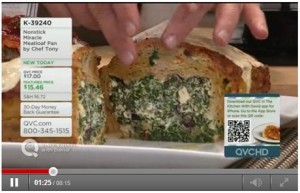 The Davison-designed Miracle Loaf sold out so fast that Venable had to abruptly end the segment with one last sentiment about the pan.
Simply, "Mmm!"
Now, you can order your very own Miracle Loaf stuffed meatloaf pan by signing up for QVC's waitlist! Check out the Miracle Loaf's all-star appearance on QVC's "In the Kitchen with David" below:
Congratulations to our client, Love Cooking Company and everyone else who had a hand in making the incredibly innovative Miracle Loaf pan a reality!
Copyright Davison 2014
The client has not made a net profit on this product.  A typical client project is not licensed, sold in stores or profitable.