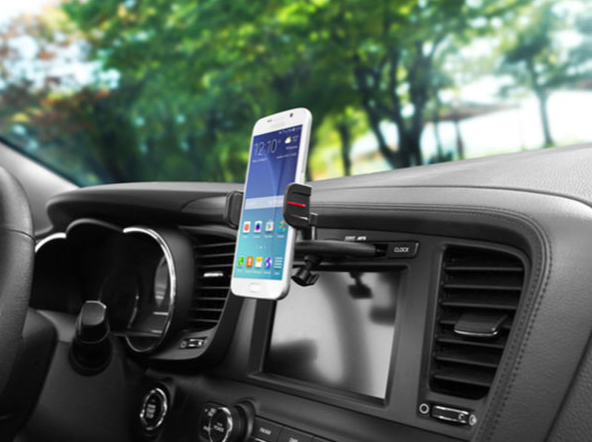 In a world where technology is at our fingertips, it is sometimes hard to not be on our personal devices even while driving. With more and more states passing laws that make it illegal to even hold your phone while driving, it is inevitable that you may run into a citation or two.
Many people use their smartphones for GPS navigation, but how are they supposed to use them if they are not allowed to be on their phone while driving? ExoMount CD Car Mount proves to be the answer. Thanks to the clever design of the ExoMount, this cellphone mount easily attaches to your CD player that most people don't even use anymore. The brilliance of the ExoMount allows you to have your phone in a visible location without having to use your hands. The 360-degree rotation allows the user to orient the mount any way they wish.
ExoMount was created as a better way to hold a phone while driving by using a part of a vehicle that most people no longer have a use for, thanks to aux cords and Bluetooth. Notice how the innovator behind the ExoMount took into consideration something that all vehicles have but is not widely used anymore; repurposing the CD player.
Its product ideas like these that are often times a hit with consumers. This product is easily adaptable to fit in any automobile with a CD player and provides the solution to a problem that many people encounter while driving.
Sometimes, the solution to a problem is staring you right in the face!
Do you have an idea for a product that will offer a solution to a problem most people face? If so, we would love to hear it. Confidentially submit your idea today!
Davison Design & Development had no involvement with the design or development of the featured product.
Copyright, Davison Design & Development 2017