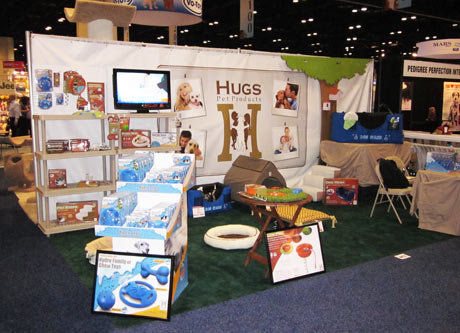 Davison's VP of Licensing has been to a lot of trade shows, but few, if any can compare to the 2011 Global Pet Expo in Orlando. Nearly all of the products we've done for Hugs Pet Products were on display in a booth that was also designed by Davison.
"It was one of the best, if not the best show I've been to," the VP said. "We had a lot of new client products on display and there was phenomenal feedback from buyers."
Representatives from Pet Smart, Petco, Bed Bath & Beyond, LTD Commodities, as well as distributors and retailers in Canada, South America, Australia and Europe expressed interest in selling numerous products in the Hugs line!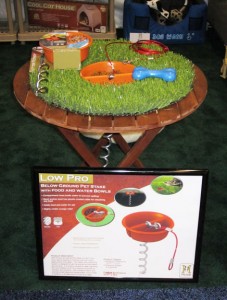 The Better Tether, formerly known as Low Pro, was received very well; several companies want to sell it and Hugs is tooling up for production to fill orders. Many other new and innovative pet products we developed for Hugs were introduced and received enthusiastic feedback. In fact, Bed Bath & Beyond wants to test several of them in select stores!
According to the VP, Bed Bath & Beyond also wants to put some of the product videos we created for the Expo in their stores during the test, and several e-tailers want to post the videos on their sites!
Needless to say, the owners of Hugs Pet Products were "extremely happy" with all the work we did. "The booth looked awesome" due to the 25+ innovative products it contained, said the VP. This was emphasized by comments they heard from buyers, such as: "Wow, you have some really unique products."
Here is what the President of Hugs Pet Products had to say:
"The Global Pet show was phenomenal for Hugs! The booth looked great … with the backdrop, posters, videos and all the packaging and products displayed. It really helped draw customers in so that we could meet and talk to them. We couldn't have done it without all the fantastic support from all of you at Davison! Over the 3 days, we got so many valuable leads. It really was an exceptional opportunity for us to showcase our products. And having the prototypes and sample packaging for the items that are still under development was so helpful."
Check out some more great photos of Hugs Pet Products at the Global Pet Expo!