Well, as the saying goes, what happens in Vegas, stays… on the Davison Blog! OK, maybe that's not how the saying goes; but, it is the case for this year's SuperZoo pet industry trade show, which was held September 11-13th. "Sin City" welcomed our Vice President of Business Development and Licensing, Dan Simbeck, along with Hugs Pet Products marketing representatives, Christine Bryan and Kristie Vossler.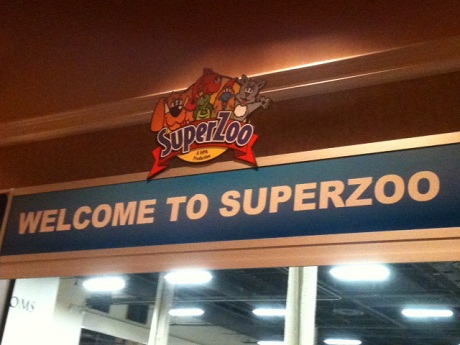 Among a total of nearly 900 exhibitors, the National Show for Pet Retailers showcased our licensing partner, Hugs Pet Products, who was happy to show off several Davison designs.
According to our representatives, Hugs debuted their 2013 catalog at the show, along with retailer-favorite Davison designs, like the Hydro Toys and the adorable Pugz collection of apparel and accessories.
"We had interest from everywhere! We saw major retailers and industry spokespeople like Wendy Diamond and Charlotte Reed. Plus, we met with magazine reps from Dog Fancy and Modern Dog," said Vossler, who also told us that Hugs' social media presence helped them connect with an even larger audience.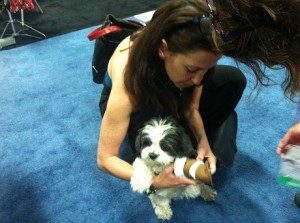 "Social media played a major part in gaining visitors to the booth. We were able to interact with other attendees and spark interest in our booth and products."
One of those wildly-popular products was Hugs' new Davison-designed Jaws collection, a dynamic chew toy line with soft rubber tines that massage gums and remove plaque, plus an edible treat to keep dogs satisfied for hours. Vossler said SuperZoo attendees really bit on to that line and more!
"Everyone loved the new products, especially the Pugz and Jaws lines," said Vossler.
While it sounds like it may have been all work and no play for our team while they were in Vegas, we've got proof that there was some time for rubbing elbows with a reality-TV star.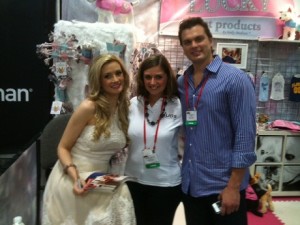 They were able to meet Holly Madison from "The Girls Next Door," who is also pawing into the pet product industry with her new company, Lucky Pet Products.
See what else our team was up to by checking out the rest of our SuperZoo photos below and stay tuned for more exciting updates as our Licensing team travels the nation to get more Davison-designed products on store shelves!