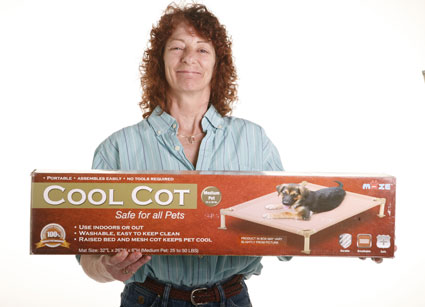 Deb's heart ached for her beloved, canine companion, Sadie, who was aging and suffering with arthritis. Sadie, who had been a faithful friend for many years, was becoming more and more uncomfortable, and Deb tried "everything under the sun" to ease the pain in her limbs. She even tried putting zippered plastic bags of warm water in the dog bed, but the only result was a wet bed.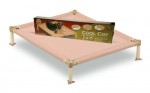 Deb realized that what she needed for Sadie was a more comfortable bed to help cushion her joints. She couldn't find one in the stores, so she decided to create one herself. She found Davison on the Internet and sent in her idea. Our design team went right to work and developed the concept, while making some modifications to make it more marketable.
Living in Wyoming, which can get brutally hot in the summer, the inventor saw the benefits of the product having a raised bed and mesh cot, which would help pets stay cool and comfortable.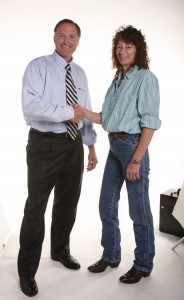 "There's not a lot you can do for a dog with a thick coat; they get very hot and sticky," said Deb, who also has a furry Australian Shepherd / Border Collie named Duke. "When Davison told me about the modifications on the product, I went with it because they were for the better."
The team also designed the Cool Cot to be lightweight, portable, washable, easy to assemble and compact to store. It can even be staked to the ground for added stability, which gave it an extra advantage in the marketplace.
Being transferred to the Licensing Department "was very exciting," and getting to that stage felt like an accomplishment, said Deb. It didn't happen overnight, but she was "thrilled" when her idea was licensed by Hugs Pet Products; at the same time, however, she tried not to get her hopes up too high.
"The day I got the call to speak to the Vice President of Licensing, I was excited at first, then I thought, 'Wait a minute, don't get your hopes up,'" she recalled. "When I got off the phone I was really excited; I told my husband right then. I was happy about it and kind of giggled about it. When I got the agreement in the mail, that made it hit home."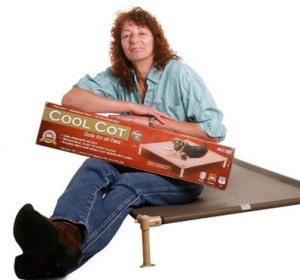 What made it even more real was receiving her first check from the sale of her invention.
"Getting my first royalty check was amazing; it was very exciting. That's when everything really hit home."
Check Part 2 of this story about our client, Deb, and her pet-friendly invention!
A typical project does not get a royalty agreement, sell in stores or generate a profit.