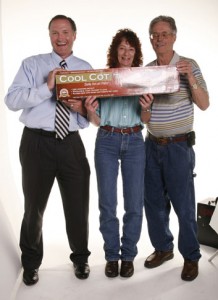 Like many family members of inventors, Deb's husband, Maynard, was skeptical. When she submitted her idea to Davison, he did not have very high hopes for its success and did not expect to see a return on their investment, although he supported his wife's efforts. So, he was quite surprised, and very pleased, that the Cool Cot was licensed and made it to the market.
"I'm a cautious person," Maynard explained. "But it turned out great." In fact, the semi-retiree has a few invention ideas of his own. When asked if he might pursue them, he replied: "With her success, why not?"
Since it hit the market, the number of retailers selling the Cool Cot has been increasing steadily — it is currently in at least 16 stores! Deb and Maynard visited Inventionland a few weeks ago to celebrate her success and meet with Mr. Davison, who presented her with her biggest royalty check to date.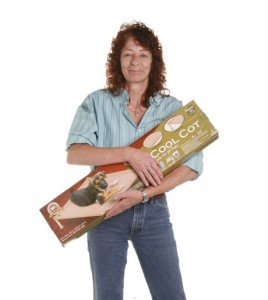 "I was thrilled; it was very nice," said Deb, who works hard each day running a home day care. "I'm holding that check and I'm just thinking, how do I get to spend this money? I'll probably put it in the bank and sit on it."
As we stated in Part 1, Deb wanted to help her dog, Sadie, who was suffering from arthritis, when she came up with her idea. During her visit, Deb also got to see her physical product for the first time, which "was pretty neat." Unfortunately, Sadie has passed, but "Duke will get to enjoy it," she said. She thought it might even be put to good use as a place for the preschoolers in her home to sit and take a break from their activities.
During their visit, the couple was given a tour of Inventionland, which was "fascinating." They were also quite impressed with its inspiring founder.
"Inventionland was a blast; I want to take it home with me," joked Deb. "Mr. Davison is pretty cool. We had a blast with him today."
Although it took some time to get it to market, Deb said her experience with Davison, from Sales to Design to Licensing, has been good.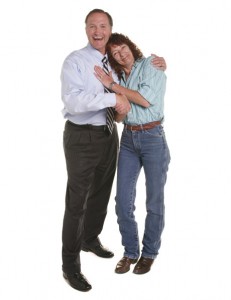 "The Davison staff is great; they're just awesome," she said. "Everything that has happened to date has been a very positive experience."
Before leaving, she offered a bit of advice to other people like herself who have an idea for a new product.
"Get it down on paper, and give Davison a call … I know I made the right decision," she said. "Those who have an idea and someone is trying to talk them out of it, ignore them and go with your gut."
Congratulations to our client, to Hugs Pet Products, and to the entire team on the success of the Cool Cot!
A typical project does not get a royalty agreement, sell in stores or generate a profit.