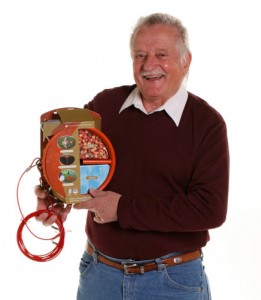 Our client, Ed, loves his dog. But like many dog owners, he has had to tether his canine companion outdoors at times. Usually, it was just a matter of time before the chain or cable would knock over the dog's food and water bowls as his pet ran around. Sure, the food could be eaten off the ground, but the water would soak into the soil or evaporate, leaving his dog thirsty … no wonder dogs bark when tethered outdoors for any length of time!
Thanks to Ed, this unhappy scenario is a thing of the past.
The retiree from Michigan had an idea for a better way to tether a dog — a stake that sits below ground level, so people and pets don't trip over it and you never have to move it out of the way to mow the lawn. Ed came to Davison to develop his idea, and now the Better Tether is headed to the market so it can benefit countless dogs and the people who love them.
"I'm really proud I invented a more humane way to tie up your pet outside," Ed said during his visit to Inventionland. He and Mr. Davison had a great meeting getting to know each other and discussing the Better Tether.
"It was such a pleasure meeting Ed," said Mr. Davison. "He's a great guy, and has a real heart for animals."
The Better Tether wasn't Ed's first idea for a new product. Several years ago, he came up with a new tool attachment. He had it built and he even used it in his work. He thought others could also benefit from his invention. The inventor wanted to try to get his product to the market, but he listened to someone who told him it would never be a success.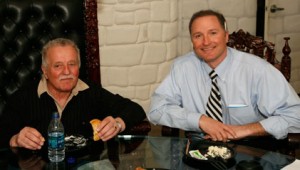 You guessed it — a while later Ed saw his idea sitting on a store shelf after it was brought to market by someone else. Ed vowed to never let that happen again. When he got the idea for the Better Tether, he was determined to not listen to negative people. Ed chose Davison to develop his idea because he thought the company "sounded more professional." As we were showing the Better Tether at trade shows, a buyer commented about the problem of tethered dogs always knocking over their bowls. Our corporate team took the porous cup on the top of the post that was designed to go into the ground and expanded and sealed it so it could hold food and water that could never be spilled.
"When we went back to the manufacturer and buyer, they loved it," said Mr. Davison. "Everyone is loving this product and orders are flying in."
Ed's director explained why we made the changes, and he fully understood, said the vice president of new products. "He put his trust in us and let us do what we know how to do best. Obviously, he's thrilled with his design at this point."
Most of all, Ed was extremely happy that his product was improved to benefit the lives of dogs. He thought his design was "perfect," and he connected with his director who thoroughly explained the process and made him feel comfortable. The 80-year-old retiree was "extremely passionate" about pursuing his dream. His friends and family were doubtful, however, and they told him so.
"People told me, 'Edward you're dreaming.' Well, let me dream! This is what I want to do and I think they can put it out there for me," he would reply.
But it didn't happen overnight. Even when it was turned down by two other companies before getting licensed, Ed never lost faith in his idea or in Davison…
Check out Part 2 of Ed's story — there's so much good stuff we just couldn't fit it all into one!
A typical project does not get a royalty agreement, sell in stores or generate a profit.