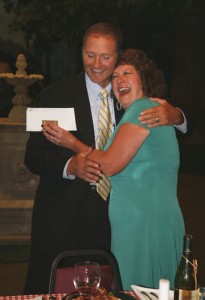 Our client, Jean, visited us so we could celebrate her success. At a delicious dinner held in Inventionland of spaghetti and meatballs (prepared in the Meatball Baker), she was presented with a gleaming covered tray that concealed a large royalty check. Jean responded with shock, amazement and tears of joy.
Jean and her husband, Donald, said they may use the money to move to a warmer climate when he retires, so they can enjoy their love of golf and get away from the bitter northern Minnesota winters. The couple was blown away by Inventionland. "I love this place, this is awesome; it's like a dreamland," said Jean. "You can't even put it into words, it's so cool."
The Meatball Baker was featured and sold out two more times on QVC; apparently they know a hit when they see one! The product was presented during the popular segment "In the Kitchen with David." The Meatball Baker also earned a Customer Top Rating on QVC.com. Most of the customers who rated the product gave it 5 out of 5 stars! To quote just a few: "Wow! Whatta Pan!" "WONDERFUL PAN!" and "I would LOVE to MEET the person who invented this marvelous pan. Talk about GENIOUS!!"
The product is also selling in Bed Bath & Beyond, Taylor Gifts, SkyMall, and many other stores!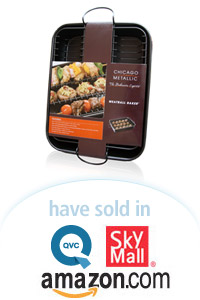 Inventor's Story:
We developed the new product for our client, Jean, a busy homemaker. She came up with her idea after getting discouraged whenever she cooked meatballs. They always got flat and cooked unevenly in the frying pan or oven and would sit in their own grease – unhealthy as well as unappetizing. "I just didn't like the way mine turned out," Jean said. "I love to cook, although I'm not that good; but I love to try new things."
One day, she came up with a solution that would solve both problems. She found Davison and submitted her idea, and the design team went to work. The final product has a unique, rounded rack system that holds and preserves the shape of meatballs and other foods, enabling them to cook evenly while keeping them completely out of the grease.
The product was licensed by a company specializing in extraordinary products for the home. Jean visited Davison while on vacation in 2007 to meet with those working on her project.
"It's been great – you guys are very knowledgeable," she said of her experience with Davison. "I was new to all this and I learned a lot."
A typical project does not get a royalty agreement, sell in stores or generate a profit.