Let it be known that inventors are not always adults. In fact, things such as ear muffs, trampolines, popsicles and water skis are just a few inventions that were created by kids!
January 17 is National Kid Inventors' Day and we wanted to talk about how this day came to be and why encouraging kids to use their imaginations and creativity towards inventing is a great idea!
The basis of this holiday is to acknowledge the past and present accomplishments of kid inventors and, additionally, to encourage the creativity of future kid inventors.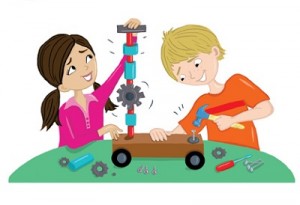 So, what exactly is the significance of January 17? Well, this was the birthday of famous inventor Benjamin Franklin, who was born in 1706. While Franklin is best known for his inventions, like the bifocal glasses among various others, at the age of 12, he also invented the first swim flippers!
Although tomorrow is the national celebration of kid inventors, on November 8, 2013, we had a kid inventors' day of sorts at our creative-design facility, Invention land, when we hosted an event that was sponsored by WQED's Design Lives Here. At the event, middle school students from across the Pittsburgh region participated in four different inventing activities, such as the Speedy Shelter, Zip Line, Paddle Power and Invention Challenge. Through their participation in the 2013 Invention Convention, the students were given a chance to exercise their creativity and ingenuity through S.T.E.M (science, technology, engineering and math).
Despite the fact that every day is a great day to inspire your kids to be creative and exercise their imaginations, tomorrow, in particular, is the perfect time to give them a boost.
Here are a few tips and ideas to motivate your kids to think outside of the box and use their imaginations!
Sit down with your kids, give them a blank piece of paper and let them brainstorm and dream up their ideas for inventions. Ask them questions about their inventions to spur their creativity.
Help your kids make a prototype of the invention. Now, this doesn't have to be the most extensive prototype. Rather, gather objects from around the house and work with your child to turn an idea from their imagination into a tangible prototype.
Just like at Davison when we challenge inventors to "Dare to Invent," encourage your child to enter their invention into a science fair or contest. This will not only motivate them to put their best foot forward, but it will also give them experience in communication by presenting and explaining their project to others.
National Kid Inventors' Day shines a light on just how important kids can be in the invention of new products. Be your child's biggest advocate and encourage them to follow their dreams, no matter how big or how small they may be!
Copyright Davison 2014
Sources:
http://www.examiner.com/article/january-17-is-kid-inventors-day
http://news.yahoo.com/jan-17-ditch-resolutions-day-kid-inventors-day-152800119.html
http://www.kidinventorsday.com/
Images:
http://www.kidinventorsday.com/