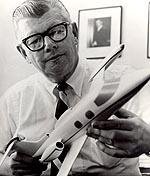 William (Bill) Lear was one of those iconic American inventors and visionaries who really bring home the concept of 'Yankee Ingenuity.' Of course he is best known for creating the Learjet, but did you know that he also earned over 100 patents for his trailblazing electronic devices in not just one, but three separate industries: aeronautics, radio engineering, and magnetic loop recording.  He held several patents for car radios, radio-compasses and jet autopilots; and invented the eight-track tape player, which in the 1960s and '70s was the ultimate in car sound systems.  So with Bill Lear's birthday coming up on June 26th, we thought it would be a fitting time to reintroduce this remarkable man to our readers.
William Lear was born in Hannibal, Missouri on June 26, 1902. He was a very smart student but often got in trouble for his lack of focus.  He read many books on electrical engineering and built make-shift radios and other types of equipment from scratch. After his parents divorced, young Bill left home and, at age 16, joined the Navy during World War I. Though too young to see action, he was sent to the Great Lakes Naval Training Station where he received more formal instruction on electronics and radio technology. After the War, he co-founded Quincy Radio Laboratory and built components for radios. He also learned to fly, a skill that would later define his legacy.
By the mid-1920s, Lear was contracting his electronic acumen to companies all over the mid-West.  He worked with the Universal Battery Company to develop an innovative battery eliminator as a back-up power source.  He built audio amplifiers and cases for Magnavox's speakers, and contracted with the Galvin Manufacturing Corporation in Chicago, a company that was building prototype car radios. Lear designed, created and patented a car radio, which he sold to Galvin and in 1930, Galvin introduced this car radio as the 'Motorola'—one of the first commercially successful car radios, and the first major product for the company that later became Motorola, Incorporated.
With his profits from these accomplishments, Lear founded the Lear Avia Corporation in 1934 to make radio and navigational devices for aircraft. Within a few years, more than half the private airplanes in the United States were using his equipment. As World War II approached, he expanded this company into Lear, Inc., and manufactured aircraft radios, communications and navigation equipment that had military aviation application. Throughout the War, his company was granted more than $100 million in contracts to supply this equipment.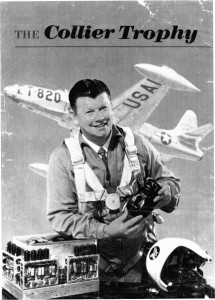 After the War, Lear's company continued to manufacture innovative aeronautic and communication equipment. He invented a revolutionary autopilot device that could land a plane in low visibility conditions. For this he was awarded the Collier Trophy in 1950 for most outstanding aeronautical achievement, and had it presented to him by none other than President Harry S. Truman.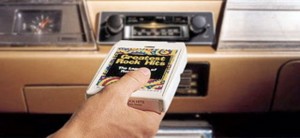 By the 1960s Lear expanded his company's portfolio by inventing the eight-track tape player. He had always been interested in audio recordings and was intrigued with the challenge of inventing a player/recorder based on a continuous magnetic tape loop. Lear's invention contained a single, continuous tape loop of standard 1/4-inch magnetic tape, housed in a plastic cartridge. On the tape, were four stereo programs each with corresponding right and left sound tracks (i.e., eight parallel soundtracks) to give stereo sound. The eight-track was a big improvement over the four-track players that already existed; and in the late 1960s and '70s, it seemed that every car in America had one.
Lear's last big creation was what he is most remembered for—the Learjet.  His desire was to build low-cost private, luxury aircraft not for commercial use, but for private corporate use—thus, the corporate jet was born.  He had plenty of naysayers who didn't believe there would be a viable market for private jets, but as he once said:
"They said I'd never build it, that if I built it, it wouldn't fly; that if it flew, I couldn't sell it. Well I did, and it did, and I could"
The first Learjet sat six- to eight people and first flew on October 7, 1963. By 1975, the company had sold their 500th Learjet, quieting all of his critics. Bill Lear died in 1978 at the age of 75, and that same year he was inducted into the National Aviation Hall of Fame.
Copyright Davison 2013
Images:
http://www.3dlearner.com/Portals/40107/images//BillLear.jpg
http://www.gretemangroup.com/wp-content/uploads/2012/10/BillLearCollierTrophy.jpg
http://www.retroland.com/wp-content/uploads/2012/11/eight-track.jpg
Sources:
http://en.wikipedia.org/wiki/Bill_Lear
http://inventors.about.com/library/inventors/bllear.htm
http://web.mit.edu/invent/iow/lear.html
http://www.nndb.com/people/990/000113651/
http://www.allstar.fiu.edu/aero/lear.htm
http://todayinsci.com/L/Lear_William/Lear_William.htm
http://en.wikipedia.org/wiki/Learjet