Davison-designed products may have sold in over 1,000 stores and online retailers, but even Mr. Davison still gets excited when he sees new products on store shelves. It's undeniable… we LOVE seeing our products on the shelves of retailers everywhere!
But, did you know there is one, centralized place where you can see ALL of our client and corporate products?
As quickly as they're in stores, they're on one of the 48 pages full of products on Davison.com!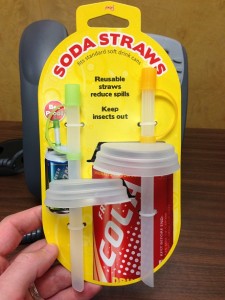 We've just added Soda Straws, an innovative product that actually allows you reseal a can that you've already opened. Recently, a member of the Davison team was out shopping when he saw Soda Straws on Walmart shelves. Now, everyone can see Soda Straws on Davison.com!
We've all cracked open an ice-cold can of our favorite beverages and either have not been able to finish it or spilled it, because we couldn't close it. That's where Soda Straws come in.
They have an innovative flip-top cap to prevent spills and even keep bugs out. Also unlike ordinary straws, Soda Straws are reusable. Thirsty? Find them at Walmart!
In fact, Mr. D recently made a trip to Walmart to see the Davison-designed Soda Straws on the store shelves, take a look!
You see, what's even greater about our product pages is that you not only get a glimpse of our products; you also learn what problems they solve and how our Better Way to Invent helped to create them! The Davison product pages even show which stores our products have sold in.
When new products hit store shelves, find them at Davison.com. Take a look at the newly-updated Soda Straws page or browse through any of the other pages full of Davison-designed products!
Copyright Davison 2013
A typical project does not get a royalty agreement, sell in stores or generate a profit.