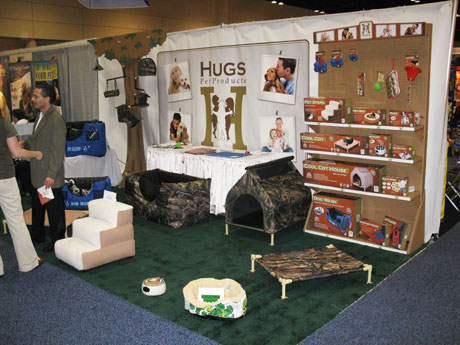 The Global Pet Expo, the pet industry's largest annual trade show, featured more than 800 exhibitors and thousands of new products and pet product buyers from around the world. One of the most exciting new lines was Hugs Pet Products. The nearly 30 products with packaging in the Hugs booth all carried the Davison "D."
"The show was awesome; we had a ton of products on display," said Davison's Vice President of Licensing, who traveled to the Orlando show with Davison's President
The products we developed for the Hugs line were "very well received," the VP said. They got a lot of interest from e-tailers and smaller chain stores, as well as some of the big ones. "Hopefully we'll get orders placed there in the near future."
The show was a wonderful venue to introduce the company's new name and brand, which "the buyers loved," he said. The owners also loved the new Hugs brand and logo we created for them, which gives the product a higher end look and evokes a "warm, fuzzy feeling."
In addition to the original style, many of the products at the show featured a camouflage design so as to appeal to buyers from sporting goods stores, particularly male buyers who may not be as interested in 'warm and fuzzy.' Since a lot of people take their dogs hunting, it could be a good way to generate interest in those venues, he added.
The design and rebranding of the line was a "nice collaborative effort." The brand and logo was Mr. Davison's vision. A major role was played by members of Davison's corporate design team, who were responsible for product design, graphic design, engineering, package design, trade show booth design and construction, as well as web design and production, copywriting and marketing. Fantastic job, everyone!
Among the products at the show that we developed for Hugs were seven we created for our inventor clients. Corporate products we created for the line also were at the show. In all, at least 25 products designed by Davison were featured.