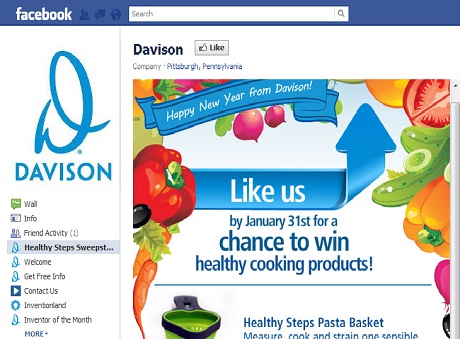 At a time when many people may be feeling like abandoning their 2012 health resolutions, Davison is ready to help you keep them!
From now until January 31, 2012, we're giving away three cooking products that were designed by Davison in collaboration with Jokari, Inc. to help with maintaining healthy portions!
That's right, for a limited time, you have the chance to win:



The Healthy Steps Pasta Basket and the Healthy Steps Serving Set make it easy to control portions by helping you measure out healthy serving sizes!  With the Health Steps Produce Pro, you can ensure you're eating enough fruits and vegetables!  Here's to a healthy 2012! 
Sounds great, right?  And, this is one resolution that's easy to keep!  All you have to do to enter is "Like" Davison on Facebook!
After January 31, 2012, we'll randomly select one Facebook fan as our healthy winner!
And, as if you needed another reason to enter, here are some great recipes to jump-start your healthy habit with your new Davison-designed products.  Happy Cooking! 
Healthy Steps Garden Fresh Primavera
Healthy Steps Simple Salmon with Sauce
Healthy Steps Simple Chicken Salad
Healthy Steps Semi-Homemade Vegetable Soup
To be eligible, entries must be made between January 17, 2012 and January 31, 2012. The employees of Davison and members of their respective immediate families are not eligible to enter this giveaway. One winner will be chosen at random and will win all three products with a retail value of $50.  No purchase is necessary to enter or win.
Davison's research, development and presentation services are provided for an upfront fee paid by the client and a contingent fee, or a percentage of royalties obtained by the client, if any. New product development is an uncertain endeavor and the use of Davison's services typically does not result in a license agreement, sales on any market or profit to the inventor. Davison does not perform analysis of the feasibility, marketability, patentability or profitability of ideas submitted to it.