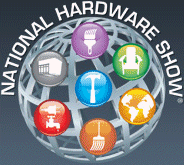 The sold-out 2011 National Hardware Show was the hot place to be last week, and not just because it was held in steamy Las Vegas. Davison's President and VP of Licensing made the most of the opportunity to network with numerous corporations as they unveiled exciting new products to a wide range of home improvement retailers.
"The Hardware Show was great; we met with a ton of companies," said the VP. "The show was better (than last year) because we have more products to discuss, more companies to work with, more people to talk to and more opportunities with companies that work with us."
Drillcraft Tools Corporation unveiled the Tru-Miter, a client product that we developed and licensed to the company. The tool, which measures angles for a table saw, is unique because of its simplicity and its appeal to contractors as well as do-it-yourselfers. The factory prototypes received good feedback from buyers, including a big player in the tool industry. The client has not received a profit.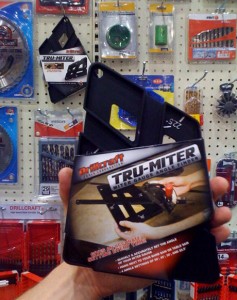 "We have a major corporation interested in this item, so that is a big plus," the VP said. He expects Drillcraft will "start to tool up" in the near future, as they wait for the final go-ahead from the corporation.
The Tru-Miter was initially turned down by another company, but once again, the Licensing Department's motto "We Try Longer," has held true.
The productive meeting with Drillcraft also included discussion on several drill cases we are working on for them, as well as their plans to expand into power tools and lawnmowers, as the company begins to diversify.
"We will be providing them with new products to help them expand those lines," said the VP. No doubt our designers will power up and help the company extend their reach!
While at the Hardware Show, our team also had great meetings with Metro Design and All Star Marketing, with whom we have established relationships. A Metro stepladder for which we did the packaging received good feedback. In addition, Metro is going to be branching off into toys, which gave the VP more good news to report: "We will be opening up discussions to help further their new product development in the toy category." Our designers surely have many playful ideas to share!
New corporations that we are working with include Blacktop 360 and SportCraft, for which we are working on a new Frisbee design. They received the design while at the show which "looks good," but needs a little tweaking, so stay tuned to see how that project soars!
Our team also opened up discussions with Grime Boss, which makes heavy duty hand cleaning wipes. They demonstrated how the wipes instantly clean hands of paint, glue or other sticky, icky substances.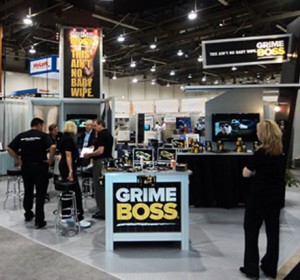 "We talked about new product development, to see if there is anything else we can add to their line." Surely we'll find something that sticks!
All this relationship building will inevitably lead to more product design and building. But the VP of Licensing is confident that our tool-savvy guys and gals are up to the task.
"The corporate team will definitely feel the push with the workload coming through; but they've done a great job handling it so far, and I would expect nothing less in the future."
While no client should expect that his idea will be presented at a trade show, Davison's presence at trade shows is invaluable in building contacts and keeping in touch with companies that are looking for new or improved products