Two Davison-designed products that were created for clients and brought to market by Hugs Pet Products are Pet Product News International (PPNI) Retailers' Top Pick Award winners! The Silicone Dog Treat Pan was the top vote-getter in the Gift Products category and the Better Tether was the third-highest vote-getter in the Home: Indoor & Outdoor Products category.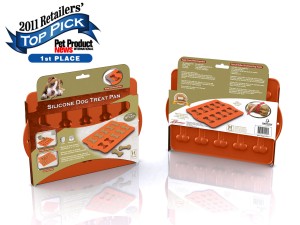 "It's really great that they won the awards, especially since they're picked by retailers," said Davison's Vice-President of Licensing. "They were up against competition from all the big names in the pet industry and they took first and third place — that's a pretty good day at the office."
Photos and write-ups of both products, along with their placements in the contest, are featured in this month's PPNI issue. The president of Hugs Pet Products said he was blown away when he heard about the awards.
"This is awesome and huge for our company. It shows that all of the hard work we have done to bring new, different and innovative products to the pet market is paying off. We will continue to strive to do this with future products we are currently developing. It is truly an honor to be selected out of great companies and products on the market. We are very excited!" he said.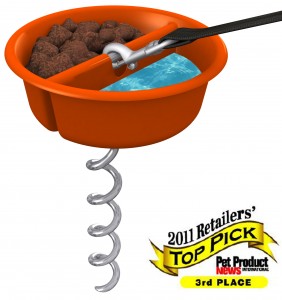 Formerly known as the Low-Pro, Davison designed the Better Tether in collaboration with our client, Ed, to offer a more humane and convenient way to tether a dog outdoors. The innovative tethering device provides a constant source of food and water that cannot be spilled and never has to be moved for the lawnmower!
The Silicone Dog Treat Pan, a spin-off of the Silicone Dessert Bar Pan that Davison designed in collaboration with our client, Joseph, allows pet owners to make dog-bone-shaped treats for their canine companions. It even comes with several paw-lickin' good recipes!
Undoubtedly, getting these products developed and to market was a team effort. From the client to the corporate design teams, many people had a hand in their success.
"I am happy to hear that these products are winning such acclaim," said Davison's Corporate Creative Coach. "I'm proud of the team for sure. I bet the clients will be pumped to hear the news! It's a nice piece of outside confirmation that these products are as awesome as we all think they are."
Congratulations to everyone who worked on these awesome, award-winning products!
A typical project does not get a royalty agreement, sell in stores or generate a profit.