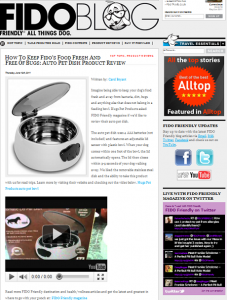 Another Davison-designed product is making headlines!  FIDO Friendly magazine, a bi-monthly travel publication for pets and their owners, has reviewed the Auto Pet Dish.
A description and picture of the dish, which was licensed by Hugs Pet Products, appear on the FIDO Friendly blog, along with a video which shows the product trial in-progress.
FIDO Friendly's testing team said the dish is great for traveling with your dog, relaxing outside on the patio or taking your pup on a picnic.
"Fido will be able to access his food or water all day long.  You won't have to worry about it going bad, getting spoiled or getting any nasty germs in it," one reviewer said.
The reviewers noted the Auto Pet Dish's durable plastic bowl with adjustable lid and sensor, and the way it automatically opens whenever four-legged friends come near, then closes almost instantly when they're done.
"This is something that's really cute, unique, different and if you're looking for a solution for your pet feeding needs, this is something that Fido Friendly had fun testing and that you might want to try out as well," a tester said.
It looks like another Davison-designed product is receiving rave reviews!  Congratulations to everyone who worked on this awesome product!
The client has not realized a net profit on this product.
Watch the entire FIDO Friendly Auto Pet Dish trial here!