A few weeks ago, we shared the exciting news with you that the Piñata Cupcake Pan was on QVC. Well this time, we are stuffed with excitement again to share with you a creative costume that our friends over at Inventionland shared with us from their recent Halloween party!
Three of our creative Directors of New Products here at Davison channeled their innovative and inventive spirits to create a costume that won them the award for Best Group Costume.
Lara, Laurie Ann, and Katelynn went above and beyond to tie in their costumes to our company! As you can see in the picture below, the group dressed as a piñata + a cupcake + Peter PAN and the result was the Piñata Cupcake Pan – get it?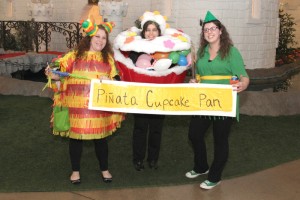 "We all had such a great time putting these three costumes together. We worked really hard on them during our lunch breaks throughout the week, leading up to the very last minute! Laurie Ann is so creative and is always thinking outside of the box! We couldn't have done it without her! Katelynn came up with the idea initially and we just built on it from there. We were so excited to win and even if we didn't win a thing, the look on Mr. D's face was rewarding enough! "said Lara.
This sweet costume was inspired by the Mrs. Fields Bake N Stuff Cupcake pan, a product that our friends over at Inventionland designed for the Love Cooking Company. Before airing on QVC, this innovative baking product was repackaged as the Piñata Cupcake Pan!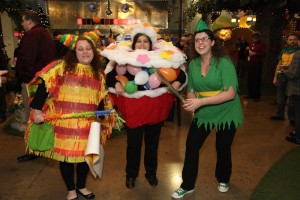 "We had so much fun with our costumes! Katelynn and Lara were troopers working so hard during lunchtime with all of my bossiness. I agree with Lara that seeing the look on Mr. Davison's face was priceless. The hardest part was maneuvering around in a giant cupcake," said Laurie Ann.
Just like the Piñata Cupcake Pan made an impression on QVC viewers, so too did this costume on the judges!
"This is the third Halloween party that I've attended to date at Inventionland and I must admit this year was the best! Laurie Ann is so creative in the way she put together the concept of the 'Pinata Cupcake Pan'! It was so much fun getting to work together and bring the idea to life. The look on everyone's faces was well worth the embarrassment of walking around as a Pinata! I'm excited about next year's challenge and, who knows, maybe it will be another costume inspired by a great product!" exclaimed Katelynn.
We must admit that this costume was pretty sweet! Congratulations Lara, Laurie Ann and Katelynn for a job well done!
Copyright Davison, 2015