Today is National Chocolate Chip Day! Whether you like to enjoy these delicious morsels in cookies, muffins, pancakes or anything in between, these chocolately bites are so popular that they have their own day of celebration today, on May 15!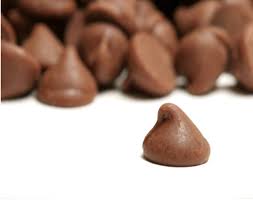 Let's take a quick bite out of the invention of the chocolate chip cookie before we delve into some of the sweet Davison-designed products that will help you pay homage to perhaps your favorite snack. Because, after all, who doesn't enjoy a warm chocolate chip cookie alongside an iced-cold glass of milk?
It all began with the accidental inventor of the chocolate chip cookie, Ruth Wakefield.  During the Depression era, Wakefield was the owner of the Toll House Inn in Whitman, Massachusetts. As Wakefield was making a batch of chocolate drop cookies, she began to run out of regular baker's chocolate. In a mad dash to continue with her baking, she improvised and substituted broken pieces of Nestlé's semi-sweet chocolate, thinking that they would melt and mix into the batter. Fortunately for us, they did not; and, in 1930, the chocolate chip cookie was born.
The cookies were a hit with guests at the Inn and Ruth's recipe for "Toll House Chocolate Crunch Cookies" was published in newspapers around New England. As a result, sales of Nestlé's Semi-Sweet Bars skyrocketed.
Nestlé was so captivated by this accidental invention that they struck a deal with Wakefield. They put her recipe on cartons of Nestlé's chocolate and gave her a lifetime supply of semi-sweet morsels.
We can thank Westfield for those deliciously-sinful Toll House cookies that we enjoy today!
At Davison, we love chocolate chip and other delicious varieties of cookies as much as the next person. So, that is why we designed the Mrs. Fields Scoop N Cut and the Mrs. Fields Cool Bake to help in the cookie-making process!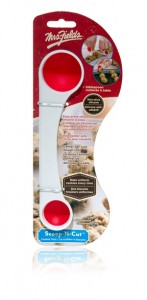 The Mrs. Fields Scoop N Cut is an easy, press-release silicone scoop that includes a center bar that can cut through raw dough. Additionally, this innovative product allows you to measure either a teaspoon or a tablespoon using the same tool, which helps you portion out the perfect amount of cookie dough!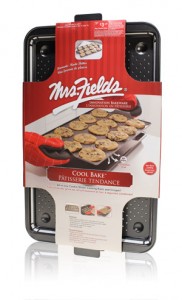 Next, the Mrs. Fields Cook Bake offers a better way to bake and cool cookies. The innovative product, designed by a Davison client who has not realized a net profit from this product, is a cookie sheet and cooling rack combo that fits seamlessly together. The sleek design of this invention of the non-stick sheet and rack can easily be separated after baking.
So, today, in honor of National Inventors Month and National Chocolate Chip Day, with the help of these Davison-designed products, whip up your best batch of chocolate chip cookies and spread the delicious wealth of these sweet treats!
Copyright Davison 2014
Sources:
http://www.punchbowl.com/holidays/national-chocolate-chip-day
http://abcnews.go.com/GMA/national-chocolate-chip-cookie-day-recipes-celebrate/story?id=19185814
Images:
http://www.benefityourlifestore.com/images/Chocolate%20Chips.jpg?osCsid=i7sbd3kdk6mpd72li5vcmt60b0