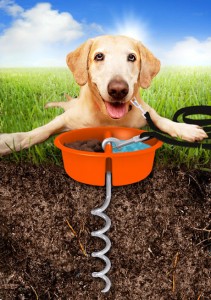 More Davison-designed products have hit the big screen again! Several innovative Hugs Pet Products were featured on the Time Warner Home Network's #1 show for home and family Welcome Home!
Already hugely successful at the 2011 Global Pet Expo in Orlando this March, Hugs President Katie showed off the Dog Wash, Better Tether and all three toys within the line of hydrating chew toys – the Hydro Bone, Hydro Ball and Hydro Saucer!
Katie said the Hydro toys, which absorb water and slowly release it as pets chew and squeeze, offer "great fitness for both the pet and the owner! Great for their hydration… there's nothing like it!"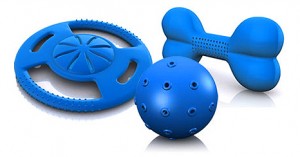 Prior to this TV appearance, Hugs products already have received much attention and exposure.
The award-winning Dog Wash has been a featured item in the upscale In the Company of Dogs catalog and the Hydrobone has been featured on Good Morning America and in both Dog Fancy and In the Company of Dogs magazines. The Better Tether is also set to hit store shelves this June!
Welcome Home reporter Mike Warrick said of Hugs innovative products, "No matter if you're looking to clean your pet, give comfort to your pet or play with your pet, you have an answer for everything!"
Congratulations to everyone who worked on these amazing products! To view the entire Welcome Home segment, visit Welcome Home TV.