With reality TV shows like "The Voice," "American Idol" and "The X Factor" captivating audiences nationwide, Walmart is making a play for a bit of the spotlight, with their own "Idol-style" contest called "Get on the Shelf."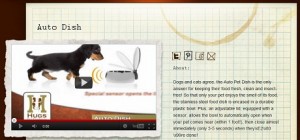 The "Get on the Shelf" competition, which launched in late January, gives small and large companies the opportunity to submit product ideas and supporting videos to the mega-retailer, in hopes of landing their products on Walmart's store shelves.
Hugs Pet Products, an innovative pet product company that licenses many Davison-designed products, has entered several of those designs in the competition, including:
Pugz Shoes
Hydro Ball
Hydro Bone
Hydro Saucer
Better Tether
Dog Wash
Auto Dish
Cool Cot
Cool Cottage
Since the start of the submission period, the "Get on the Shelf" contest has created quite a bit of buzz in the press.  USA Today reported on the competition and even showcased some early entries, including the Davison-designed Pugz Shoes for Dogs that our client, Kay, invented!
According to USA Today, "Some of the offbeat products competing include Pugz Shoes — boots for puppies that keep your pooch's paws warm."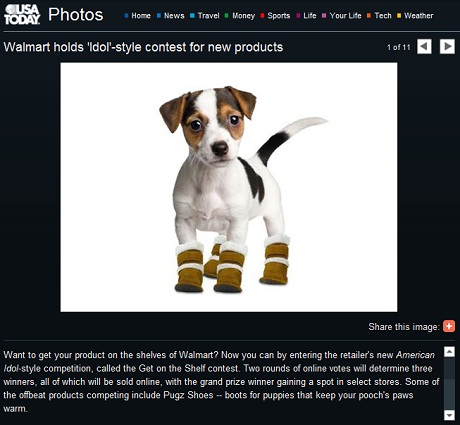 Starting today, consumers have the opportunity to visit www.getontheshelf.com to browse all submitted entries and vote for their favorites.  According to an Advertising Age article, top vote-getters will be featured at Walmart online and may sell in select stores.
"The top three vote-getters will be sold on Walmart .com, and a grand prize winner will be featured on the home page for its 50 million monthly unique visitors and in select Walmart stores," the article stated.
"Get on the Shelf" voting runs in two rounds:  Round 1 is March 7 to April 3, 2012 and Round 2 is April 11 to April 24, 2012.
Let's show Walmart how powerful the Davison community can be!  Alert your friends, family, coworkers and everyone else you know to vote for all entered Davison designs!  To vote, simply visit www.getontheshelf.com!
A typical client project is not licensed, sold in stores or profitable.