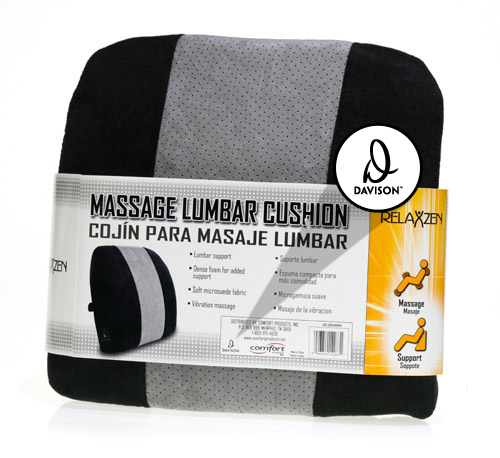 There are 7 new cushion products in Walmart and on Davison.com for which we created the packaging — Massage Lumbar, Microsuede Seat, Ortho Mesh Back Support, Ortho Wedge Seat, Gel Seat, Simulated Leather Seat, and Neck Support. In addition, 3 more cushions will be in our packaging as soon as the old stock is used up. The 10 items complete the line of 11 Relaxzen seat cushions by Comfort Products that (with our help) knocked a competitor off the megastore's shelves.

"I'm surprised to see them in there already," said the corporate design manager, who found them in his local Walmart. "It's really neat to walk down the aisle in a store and say, 'Hey, we did that!' It's definitely a pay-off after the amount of work we went through in a short amount of time."

His team presented two different styles and color combinations last year, then the buyer decided he wanted the entire aisle redone, so they redid the packages according to Walmart's specifications. What is so unique about the packaging is the "little dude" the team created.

They came up with an icon similar to the one on a vehicle's instrument panel, which, when combined with graphics, immediately conveys the unique features of the product, such as vibration and support, so the shopper doesn't need to spend time reading.

The wraparound packaging is "technically" Walmart's private label, said the design manager. In addition, all the packages feature the "Relaxzen" brand logo created by a Davison graphic designer. The logo also will be used on a line of wellness products that Comfort Products is getting ready to launch, for which we also did the packaging. More news on that to come!

"Design did a really good job on the packaging," said the senior category director in the Licensing Department.
"As usual, the team put the line together in a relatively short amount of time, and it's great to see the products on the shelf."