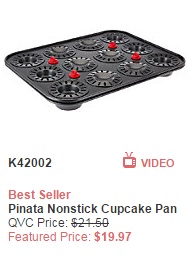 Just a few weeks ago, we wanted to throw a small fiesta when we saw another product that our friends at Inventionland designed, the Piñata Nonstick Cupcake Pan, on QVC's "Kitchen Unlimited with Carolyn."
The pan, which also sells as the Mrs. Fields Bake N Stuff Cupcake Pan, debuted as the first item on the show and it is now listed as one of QVC's Best Sellers!
Of course, it was exciting to see this product live on QVC, but nothing takes the candy-stuffed cupcake like hearing great feedback from our current and potential clients after it has stuffed them with inspiration!
After the segment had aired as the very first product on "In the Kitchen with Carolyn," some of our clients reached out to us to keep their invention ideas moving forward, while others realized a newfound belief in their own new product ideas. Not to mention, some of our clients even purchased the Piñata Nonstick Cupcake Pan from QVC to give this innovative product a try!
Here are two things that we've learned from our most recent air-time on QVC:
Keep it going
After seeing this product on QVC, several of our clients were inspired to get their ideas going again. Sometimes, all that it takes is to see another situation that is reminiscent of yours yield positive results to restore your innovative spirit to keep chasing your invention dreams.
Believe in your idea
It's no secret that sometimes it can be hard to keep your spirits alive if you don't whole-heartedly believe in your idea. After seeing this particular QVC segment, and having the Piñata Nonstick Cupcake Pan air as the very first product on the show, clients have said that they feel more strongly and confidently about the fact that they too could one day take a bite of their own success.
Feeling inspired? Submit your invention idea, today!
Copyright Davison, 2015
A typical project does not get a royalty agreement, sell in stores or generate a profit.