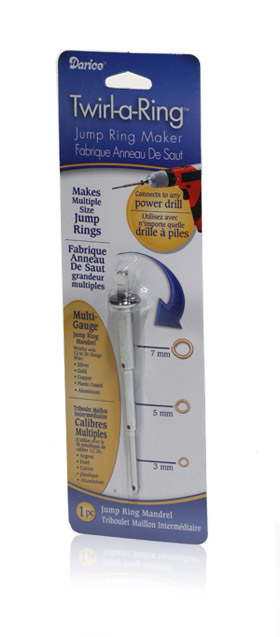 Twirl-a-Ring is now selling in Pat Catan's, as well as independent craft stores, such as Factory Direct Craft, Craft Town Hobby Land USA, Consumer Crafts and Sunshine Crafts. The innovative jump ring maker that we created for Darice also will be shown at the Crafts & Hobby Association show later this month, and the corporation plans to pitch the product to Jo-Ann's and Michael's for 2011.
"This is the first project that is selling on store shelves with Darice," said Davison's VP of Licensing. "It's great to see and we look forward to many more with Darice!!"
The Twirl-a-Ring is on the shelves of approximately 20 Pat Catan stores throughout Ohio and Pennsylvania. The retailer, which is owned by Darice, features a huge array of jewelry making and other crafting supplies.
A Davison corporate designer drew upon his own experience making jewelry to design the unique three-stage mandrel, which can make three sizes of jump rings with one convenient tool, saving time, effort and money. A jump ring is a small, wire ring used to link elements of jewelry. The one-piece unit is easily machinable, works with any drill and solves a common problem, said the designer. Other members of the corporate team provided the engineering, graphic design and packaging engineering. This was a corporate project that Davison developed and licensed for its own benefit.
Check out the newest addition in the crafts category to our product pages!