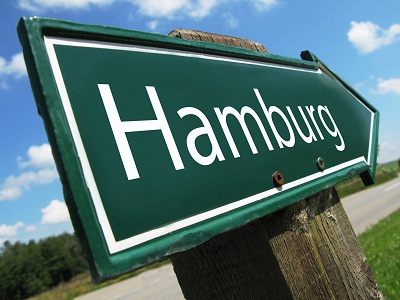 Hamburg is a site to behold, so walking over its beautiful canals, around the Binnenalster and along the River Elbe is worth the price of airfare alone. Combine the beautiful scenery with luxury goods and you have Alsterarkaden, a 100-meter street bedazzled with jewelry stores, antique books, chinaware and coffee shops. Perfect for the shopaholic in you.
After crashing from the adrenaline rush of an impulse buy at Brahmfeld and Gutruf, you're going to need something to sooth your pocketbook woes, but stimulate your travel curiousity. What better way to get that unlikely combination than by sipping some of the world's most delicious teas? Stop by Messmer Momentum to refuel. Messmer is a teahouse and museum that features hundreds of teas, candies and a delightful view of one of Hamburg's famous canals as you enjoy your treats on their deck.
Now that you've put chug-a-lug back in your choo-choo, swing by the Miniatur Wunderland to see enchanting recreations of the mountains, forests and seacoasts of Germany, Scandinavia and America as locomotives travel through the largest model train exhibition in the world. All aboard for miniature marvel.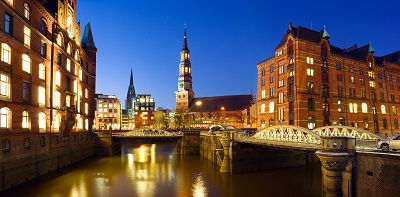 You've probably worked up a hunger, watching thousands of miniature villagers working for a living as you stare moth agape. In a port city like Hamburg, you're going to want fresh fish. No, you want a hamburger. We're not asking, we're telling. Visit Bullerei for some hearty Bavarian meats.
The next morning, catch your breakfast, hook, line and sinker. Every Sunday from 5 a.m. to 10 a.m. at the world's oldest open-air market features fresh fish, jazz and bargain vendors selling any ware you can imagine at Hamburg Fischmarkt.
Don't forget to check out Hamburg's historical warehouse district, the largest warehouse complex in the word. "Narrow cobble stone streets and small waterways are lined by 100-year old warehouses, which store cocoa, silk, and oriental carpets. Light projections in the evening create a magical atmosphere on buildings, bridges and canals," according to about.com.
Before leaving Hamburg, pay your respects to the father of the modern cruise by stopping by Ballin's house, which is now the UNESCO Institute for Lifelong Learning. After all the delicious meats, exclusive jewelry and fun Hamburg has to offer, at least now you can say you learned something on a vacation.