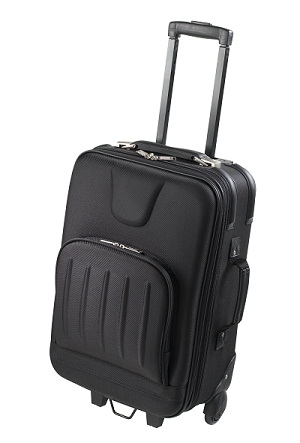 Years later, traveling got easier, as the idea of luggage overwhelmed the jet set with the ease and convenience of pocket storage, zippers and containment. The most significant update to luggage came in the 1970s when Bernard Sadow of New Bedford, Mass., revolutionized how we transport our luggage. Sadow, a luggage-business professional, came up with the idea for affixing casters (what IKEA calls their wheels) to suitcases as he struggled to lug two large suitcases through an airport in Puerto Rico.
After weeks of rejection from department stores, including Macy's, Sadow had a meeting with a Macy's vice president who was impressed with his idea.
The Macy's buyer who had recently shown him the door agreed with his boss, and a product was born. Sadow applied for a U.S. patent in 1970, and in 1972, he was granted the first successful patent on wheeled suitcases. Macy's sold the first suitcases in October 1970, according to a CNN.com. story. And the rest is history.
So celebrate American travel innovation and roll your luggage to the nearest airport, Amtrak or Megabus and head toward the home of Sadow — beautiful New Bedford, Mass.
Start your journey through New Bedford by immersing yourself in local culture. Start at Gallery X, an artist owned and operated community art center that features the contemporary, cooperative art of visual, performing and literary artist members and volunteers. From there, it's just a hop, skip and a jump to the New Bedford Whaling Museum. Some of the museum's current exhibitions include, The Art of the Ship Model, Glass from the City of Light and Skeletons of the Deep.
Reading under the fluorescent lights of museum buildings sure can make you hungry. Since New Bedford is America's largest commercial fishing port and home to Fisherman's Market, you would do well to treat yourself to something from the sea. Try the clam chowder at Wharf Tavern as you enjoy the spectacular water views. Or check out Margaret's Restaurant across the water in Fairhaven.
Close out your day in New Bedford like a true local at The Pour Farm Tavern, which features live music, events and over 30 craft beers on draught as well as a fantastic variety of bottles and cans.
According to his obituary in a 2011 New York Times, [Sadow] traveled the world looking for material and making connections. He was admired and loved by most who knew him for his boyish enthusiasm and his eternal optimism. So enjoy your trip, make some friends and admire the locals before you wheel your way back home.