Arizona is home to the Mojave, Sonoran and Chihuahuan Deserts. But this dry, sometimes desolate terrain is the birthplace of one of the most jubilant inventions to ever grace a body of water – the personal watercraft.
Remember the days of having to share a boating experience with an annoying relative or work colleague? No. You probably don't. Because in 1965, a banker by the name of Clayton Jacobsen II bestowed us with the ultimate in water recreational freedom, eliminating the need to ever again have to force small talk while boating.
According to MIT.com: "The invention of both major types of PWC [personal watercraft] is usually credited to Clayton Jacobsen II of Arizona, originally a motocross enthusiast. The general public was introduced to such vehicles with the mass-marketing of Kawasaki's Jet Ski® in 1973. The original stand-up model, with a powerful 400cc engine and handlebar steering, allowed a person to virtually water-ski without the need of a boat. However, staying aboard the device was a challenge, especially in choppy water; so for some years, despite improvements in control and stability, PWCs acquired a very loyal but also fairly limited following."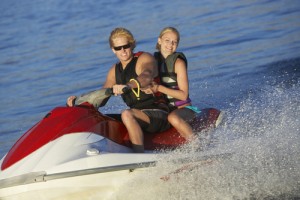 There are a lot of beautiful cities to visit in Arizona, but we think the biggest bang for your buck is Lake Havasu City. Where else can you celebrate Jacobsen's invention on over 30 square miles of pristine water surface while taking in some flavor from across the pond?
Your fist stop in Lake Havasu should be the London Bridge. We know it sounds weird, but the London Bridge was relocated from the River Thames in London in 1967. After two years and $7 million dollars, the London Bridge was reassembled in Lake Havasu over a man-made canal. After admiring some British engineering with your mates, it's time hit the water Jacobsen style. Located at 507 English Village under the London Bridge, Adventure Center rentals is your source for fun on Lake Havasu.
After enjoying an activity so distinctly American, as selfish boating tends to be, why not grab some of the best American fare Lake Havasu has to offer? Place to Be at 171 Swanson Ave. has a splendid mix of American comfort food as well as re-imagined classics.
For a brief time in American history, let's call it 1995, Lake Havasu was home to MTV's annual spring break festivities. So while you don't have to guzzle light beers,  dance around with Eric Nies or do a back-flip off a pontoon boat, it would behoove you to sample some of Lake Havasu's engaging nightlife. Try Kokomo Havasu for a raucous good time or for a more relaxing time try Sandbar & Grill, 1340 McCulloch Blvd N Lake Havasu City.
Any way you cut it, you're going to have a good time slicing through the wake of everything Lake Havasu has to offer. Just remember to tip your glass in memory of Clayton Jacobsen.
Sources:
http://web.mit.edu/invent/iow/watercraft.html
http://www.londonbridgeresort.com/Marina/WaterSportRentals.aspx
http://www.placetobelhc.com/