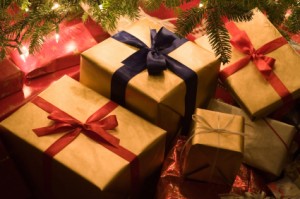 As we put the final touches on our holiday preparations and the last bows on each of our presents, in the spirit of the holiday season, there's nothing quite as special as seeing the smile on someone's face as you give them a gift.
But, it's safe to say that receiving a gift can be just as great as giving a gift!
As an innovator/inventor, you dream, day in and day out, that your idea will one day change the lives of many – a gift for all. In the invention world especially, one of the best gifts that an inventor could unwrap is the gift of seeing their hard work, determination and inventive spirit come alive as a product that proudly sits on a store shelf.
With the holiday season in full swing, and as you're likely getting ready for quality time spent with family and friends, we'd like to give you a small gift – a gift that we hope will inspire you to one day dare to invent.
Enjoy this quick clip of some of our clients seeing their inventions in stores for the first time!
Who knows, the next product you see in stores could be yours!
Copyright Davison, 2015
Image:
http://monk2be.com/wp-content/uploads/2011/12/gifts.jpg