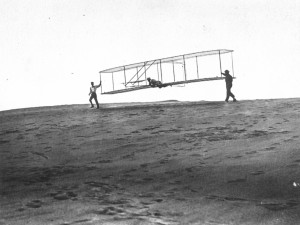 Today is Wright Brothers Day, which celebrates the brothers' first successful airplane flight in 1903 near Kitty Hawk, North Carolina!
Both Orville and Wilbur Wright have been given credit for inventing the world's first airplane that was equipped with aircraft controls for steering.
The famous aircraft, otherwise known as the "Flyer" made history when its flight lasted 12 seconds and traveled 120 feet on December 17, 1903.
Though this is a feat in and of itself, the Wright brothers' first flight is even more meaningful for inventors who are actively pursuing their dreams.
In previous blogs, we've provided you with tips like how to tune out skeptics and the five qualities of a successful person to name a couple.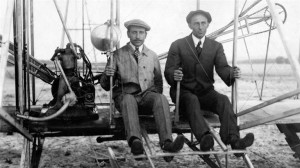 Today, to celebrate the inventive spirit of this creative duo who took a chance, defied the odds and revolutionized modern transportation as we know it, we want to share with you three things you might not have known about the Wright brothers.
1. A toy sparked the curiosity to fly.
Intriguing as it is, a toy is what sent the Wright brothers airborne! Both brothers received a toy helicopter that was made from bamboo, cork, paper and a rubber band. A gift from their father's travels in France, this toy left them amazed as they watched it flutter in the air before it fell to the ground. You could say that it was at this moment that their invention dreams took flight.
2. Genetic geniuses.
Though their father's toy sparked their interest, it is said the Wright brothers actually inherited their inventive nature and handy-work from their mother, Susan Koerner Wright, who could make almost anything by hand.
3. One and done.
Once the Flyer made its successful flight in addition to a few other flights that day, it was never flown again. This was due in part to the fact that the aircraft was struck with a strong gust of wind and flipped several times. The damage was far too immense and the Flyer was sent back to Ohio and was never flown again.
Because Orville and Wilbur Wright dared to invent, we can admire these two everyday people who on this day 112 years ago decided to follow their invention dreams and become two remarkable inventors.
Will you dare to invent like the Wright brothers?
Copyright Davison, 2015
Sources:
http://www.timeanddate.com/holidays/us/wright-brothers-day
http://www.history.com/news/10-things-you-may-not-know-about-the-wright-brothers
http://mentalfloss.com/article/72273/15-uplifting-facts-about-wright-brothers
Media:
http://www.wright-brothers.org/Information_Desk/Help_with_Homework/Wright_Photos/Wright_Photos_images/1902_Glider_Launched.jpg
http://cp91279.biography.com/5-Facts-About-the-Wright-Brothers_HD_768x432-16×9.jpg