FOR IMMEDIATE RELEASE
PITTSBURGH, PA, April 23, 2008 – Packaging can make or break a product. If your competitor has a snazzy package that better illustrates the benefits of their product, it may be time to think inside of the box. Such was the case with Comfort Products, a company with a helmet line that was suffering from lackluster packaging.
Comfort Products needed a smart packaging solution for its helmet brand "Fuel." Their biggest competitor had a two-piece, expensive, vacuum-formed package that enabled a consumer to try on a helmet without taking it out of the box. Having realized that the competition had a leg up with its innovative package, Comfort Products turned to Davison, a Pittsburgh-based new product development firm and packaging specialist.
Davison's design team was challenged to create an open-style, "head-in" package that did not infringe on the competitor's packaging patent. In just two weeks, Davison created a package design that accomplished the goal while being less expensive and easier to manufacture.
The packages Davison created are unique yet consistent across the four styles of Fuel helmets. The open-style, sleek package design enables the consumer to try on a helmet easily before purchasing it. Each package is enhanced with slick graphics that illustrate how consumers can try on the helmet.
Comfort Products, an importer and distributor of home, leisure, travel, automotive and hardware products, licensed Davison's packaging solution last November. The new Fuel helmet package is now selling at Wal-Mart.
Products and packaging solutions designed by Davison have sold in stores across the United States-in Target, Bed Bath & Beyond, Wal-Mart, Home Depot, CVS, Sears, K-Mart, Lillian Vernon, FAO Schwarz, JCPenney, Cabela's and QVC. In 2006, Davison received two Industrial Design Excellence awards from the Industrial Designers Society of America and BusinessWeek magazine.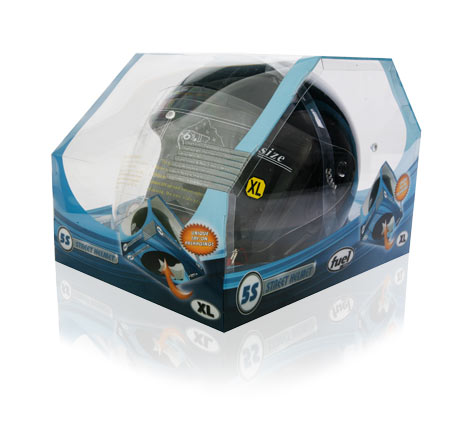 Davison News & Media Contact:
Contact us online
or call 1-800-544-3327 or 412-967-0124 for those outside the U.S